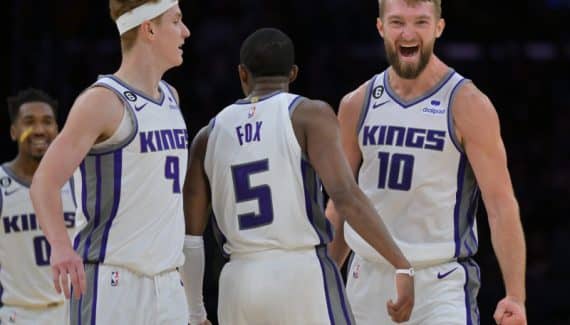 How far will the descent into hell of Lakers ? Tonight, for the second time this season, they actually just chained a fifth loss in a row. And these are the Kings who, at the end of a very tight encounter, this time dominated them (120-114), with in particular a super De'Aaron Fox (32 points, 7 rebounds, 12 assists).
Supported by a good Domantas Sabonis (21 points, 10 rebounds, 6 assists), the leader of Sacramento thus had the last word in the money time of this mano-a-manoin front of Anthony Davis (24 points, 14 rebounds, 3 blocks), Russell Westbrook (21 points, 11 assists) and others.
"Offering" at the same time the worst record in the league to Los Angelestied with Houston: two wins after twelve games…
WHAT YOU MUST REMEMBER
— De'Aaron Fox, boss of money-time. Author of a nice double-double, the leader of the Kings especially distinguished himself at the end of the game, with 10 points and 4 assists in the fourth quarter, to force the decision with several big shots in hot moments. And it would almost start to become a habit for him, because we remember that he had, for example, killed the Magic at the buzzer, a week ago. At almost 25 years old, and while he plays the best basketball of his career, he thus proves that he is more than ever seeking a place in the All-Star Game…
— Anthony Davis and Russell Westbrook did their best… In the absence of LeBron James, the Westbrook / Davis duo was obviously responsible for carrying all the hopes of the Lakers today. Together, they rather responded present throughout the match, but that was once again not enough for the finish. The fault of a money time poorly managed, between lost ball, bad shots, avoidable faults and lack of consistency in defense, from the moment when the "Brodie" put Los Angeles in the lead (114-113), two minutes from the end…
TOPS/FLOPS
✅ Domantas Sabonis. If Kevin Huerter, Terence Davis or Chimezie Metu also showed great things last night, we prefer to retain the new double-double of the double All-Star, which has clearly been gaining momentum for ten days, in support of De'Aaron Fox. And what most appeals to the Lithuanian currently is that he wastes very little ammunition in attack (9/15 on shots, 3/3 on throws and 2 loose balls), while remaining very solid in rebound and precious to the creation, without being too much manhandled in defense. Even when he faces a player of the caliber of Anthony Davis.
✅ Lonnie Walker IV and Austin Reaves. With 19 points each, at pretty success percentages, the two Lakers backs did the job in the shadow of Russell Westbrook and Anthony Davis, trying to compensate as best as possible for the absence of LeBron James. Energetic, determined and combative, they seem to be gaining more depth in Darvin Ham's rotation and have once again not been undeserved, but their fine performances have unfortunately not been rewarded with success.
⛔ Keegan Murray. New evening without for the rookie of the Kings, who clearly accuses the blow since the beginning of November. With his 2 small points in 26 minutes, only 1/4 on shots (including 0/3 at 3-pts), he was not at the party, but he will at least have had the merit of not forcing things and let his teammates take care of everything for him. Waiting to be more successful in the future…
⛔ Patrick Beverley and Troy Brown Jr.. Without LeBron James, it was hard to imagine anything other than a loss for the Lakers, with a Beverley/Brown Jr. duo limited in aggregate to just 7 points and 3/14 on shots, in their starting five. Especially since in addition to not being inspired offensively, the two players also did not particularly shine defensively. A match to forget therefore, as too often for "Pat Bev", while "TBJR" missed for the first time this season.
THE FOLLOWING
Los Angeles (2-10) : Brooklyn reception, Sunday night to Monday (03:30).
Sacramento (5-6) : reception of Golden State, on the night of Sunday to Monday (03:00).
LA Lakers

/

114
Shots
Bounces
Players
Minimum
Shots
3 points
LF
O
D
T
pd
party
Int
bp
CT
+/-
Points
Rating
A. Davis
34
8/17
0/1
8/11
6
8
14
3
2
2
2
3
-7
24
32
W.Gabriel
19
4/4
0/0
0/0
1
1
2
1
4
0
1
2
+10
8
12
T.Brown Jr.
23
1/6
0/2
0/0
0
3
3
0
2
2
0
0
-14
2
2
P.Beverley
26
2/8
1/3
0/0
1
2
3
3
2
2
0
0
-3
5
7
L.Walker IV
33
8/14
2/4
1/2
0
1
1
1
1
2
2
0
-14
19
14
J. Toscano-Anderson
13
2/3
1/1
0/0
1
2
3
1
3
0
1
0
+1
5
7
D.Jones
7
2/2
0/0
0/0
0
2
2
0
1
1
0
0
0
4
7
R.Westbrook
34
6/17
4/7
5/6
3
1
4
11
5
0
5
0
-13
21
19
A.Reaves
33
7/12
0/2
5/5
2
3
5
1
1
1
3
0
+2
19
18
Mr Christie
17
2/5
2/5
1/2
0
4
4
1
1
1
0
0
+8
7
9
42/88
10/25
20/26
14
27
41
22
22
11
14
5
114
127
Sacramento

/

120
Shots
Bounces
Players
Minimum
Shots
3 points
LF
O
D
T
pd
party
Int
bp
CT
+/-
Points
Rating
D. Sabonis
32
9/15
0/0
3/3
2
8
10
6
5
1
2
0
+10
21
30
H.Barnes
31
3/7
1/3
6/6
3
5
8
2
1
1
2
1
+9
13
19
K.Murray
26
1/4
0/3
0/0
0
1
1
0
3
1
1
1
+15
2
1
D.Fox
36
13/19
2/5
4/5
0
7
7
12
2
2
3
0
+13
32
43
K.Huerter
32
6/13
4/9
0/1
1
5
6
2
1
3
3
2
+6
16
18
T.Lyles
15
0/4
0/4
0/0
1
1
2
1
0
0
0
0
-7
0
-1
C.Metu
16
4/8
1/3
1/2
2
3
5
0
1
1
1
0
-4
10
10
D.Mitchell
20
2/4
2/3
0/0
0
0
0
0
1
0
0
0
-14
6
4
T. Davis
13
4/6
2/4
2/2
0
0
0
1
1
1
0
0
-2
12
12
Mr. Monk
21
3/7
0/2
2/2
1
0
1
3
2
0
3
0
+4
8
5
45/87
12/36
18/21
10
30
40
27
17
10
15
4
120
141