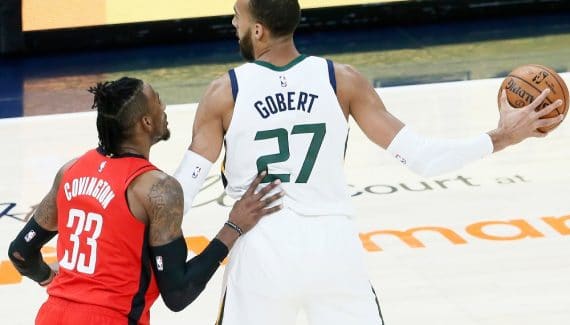 If the Jazz signed Danuel House Jr. in early January, it was no coincidence. The leaders of Utah are looking for a winger, rather good defender, and obviously, they have not yet found their happiness.
Marc Stein announces that Jazz has an eye on several "3&D" type candidates. The main target, like other franchises, is obviously Jerami Grant, but the Pistons aren't interested in picking up Joe Ingles' contract ($14 million), even though there's a first-round Draft in progress. more.
Our colleague adds the names of Robert Covington and Terrence Ross. Under the right conditions, the former is a solid 3&D in the league (7.7 points per game) and as Portland is having a very average season, not to mention that he is at the end of his contract, his departure is not impossible.
Same logic for the second, since Terrence Ross (11.7 points on average) is a "veteran" (30 years old) in a very young team, and he has his ticket out. He still has a year of contract after this season and the Magic seem very inclined to let him go by the trade deadline of February 10, like Gary Harris for that matter.
Shots
Bounces
Players
GM
Minimum
Shots
3 points
LF
Off
Def
Early
pd
bp
Int
CT
party
Points
Donovan Mitchell
40
33.5
45.0
33.9
87.6
0.8
3.1
4.0
5.2
3.0
1.6
0.2
2.5
25.5
Bojan Bogdanovic
46
30.8
46.7
38.7
85.8
0.8
3.4
4.2
1.7
1.6
0.5
0.0
1.7
18.1
Rudy Gobert
42
32.5
70.7
0.0
69.0
3.7
11.4
15.1
1.2
1.8
0.8
2.3
2.7
16.0
Jordan Clarkson
47
26.3
40.0
32.2
80.4
0.7
2.7
3.5
2.3
1.7
0.7
0.3
1.8
15.3
Mike Conley
42
28.5
45.7
42.4
82.4
0.6
2.4
3.0
5.2
1.6
1.1
0.3
1.7
14.0
Rudy Gay
30
20.3
42.2
36.7
84.3
1.0
3.7
4.7
1.1
0.8
0.6
0.3
1.9
9.3
Hassan Whiteside
37
16.8
61.7
0.0
67.7
2.3
4.6
6.9
0.4
0.9
0.3
1.3
2.8
8.2
Joe Ingles
42
25.3
41.3
35.2
75.0
0.3
2.6
2.9
3.6
1.1
0.5
0.1
1.8
7.5
Royce O'Neale
44
31.6
47.9
39.9
76.3
0.9
4.3
5.2
2.5
0.9
1.3
0.5
2.5
7.2
Daniel House
5
21.5
44.0
33.3
63.6
0.4
2.6
3.0
2.0
0.4
0.6
0.6
1.2
6.8
Eric Paschal
34
12.2
49.2
35.6
73.9
0.6
1.3
2.0
0.5
0.6
0.1
0.1
1.0
5.1
Elijah Hughes
11
6.9
50.0
50.0
100.0
0.0
1.0
1.0
0.5
0.5
0.3
0.0
0.5
3.3
Jared Butler
21
6.2
37.7
38.2
66.7
0.0
0.7
0.8
0.8
0.8
0.4
0.3
1.0
3.1
Denzel Valentine
2
9.2
50.0
33.3
0.0
0.0
2.0
2.0
0.0
1.0
0.5
0.0
1.5
2.5
Trent Forrest
37
10.1
54.1
28.6
76.0
0.4
1.2
1.6
1.1
0.7
0.3
0.1
0.6
2.4
Excavator
3
6.3
60.0
0.0
0.0
1.0
1.0
2.0
0.0
0.7
0.0
0.3
0.3
2.0
Udoka Azubuike
8
6.7
62.5
0.0
50.0
0.2
1.2
1.5
0.0
0.6
0.1
0.5
0.6
1.4
Malik Fitts
7
5.0
22.2
50.0
0.0
0.0
1.4
1.4
0.0
0.3
0.0
0.0
0.4
0.9
Miye Oni
16
2.8
22.2
12.5
0.0
0.1
0.4
0.4
0.3
0.1
0.0
0.0
0.4
0.3
Zylan Cheatham
1
5.2
0.0
0.0
0.0
0.0
0.0
0.0
0.0
0.0
0.0
0.0
0.0
0.0