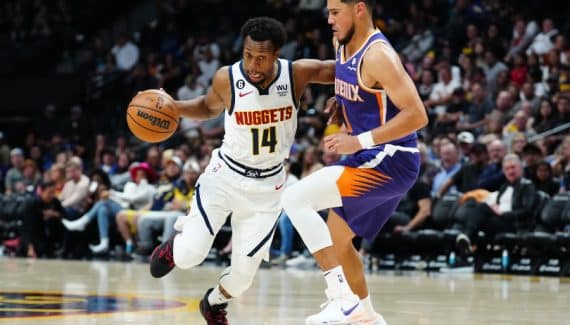 If the Suns showed up almost complete at the Ball Arena, the Nuggets played them without Nikola Jokic, Jamal Murray or Aaron Gordon. For Monty Williams, it was therefore an opportunity for his incumbents to work, and we saw Chris Paul leave a lot of responsibilities to Mikal Bridges, before serving Deandre Ayton as much as possible.
On the Nuggets side, Bones Hyland was the starter and he continually pushed the tempo, trying a lot (too much?) to finish with 16 points at 6/15 shooting. Bruce Brown has been interesting alongside him in the five, while Michael Porter Jr. remains an enigma. We expected him as the offensive leader of the team but the winger did not find the target (9 points at 2/11 in shooting) and, when this is the case, he does not bring much d another to his team…
Without too many surprises, the Suns started to take the upper hand in the third quarter, but Ish Smith would not give in against Chris Paul, and the "journeyman" kept his team afloat.
Better, while the All-Star leader of the Suns was going to rest with the other holders of Arizona in the last quarter, Ish Smith remained on the ground, with in particular the very active rookie Christian Braun (11 points). And the veteran leader disgusted his opponents in the "money time", to snatch the victory (107-105).
Note that Timothé Luwawu-Cabarrot (8 points, 3 rebounds) took advantage of the end of the game to show himself.
denver

/

107
Shots
Bounces
Players
Minimum
Shots
3 points
LF
O
D
T
pd
party
Int
bp
CT
+/-
Points
Rating
J. Green
23
3/7
0/2
2/2
0
0
0
1
1
0
1
1
-3
8
5
B.Brown
28
4/9
2/5
2/2
0
2
2
2
5
0
1
0
-3
12
10
Mr. Porter Jr.
23
2/11
1/5
4/5
1
4
5
1
2
2
2
0
-7
9
5
D.Jordan
22
3/5
0/0
1/1
4
6
10
2
0
0
0
0
-5
7
17
B. Hyland
20
6/15
2/7
2/2
2
4
6
3
1
1
0
2
0
16
19
Z.Nnaji
21
3/5
1/3
2/6
1
4
5
1
4
0
1
0
+6
9
8
J. White
5
1/1
0/0
0/2
0
1
1
0
0
0
1
0
+1
2
0
P.Watson
6
1/2
0/1
0/0
0
0
0
0
0
1
0
0
+1
2
2
V.Cancar
23
3/6
2/3
1/2
0
0
0
1
2
1
1
0
+8
9
6
I.Smith
25
7/12
1/1
2/4
0
3
3
7
2
0
3
0
+3
17
17
D.Reed
19
1/4
1/4
2/4
1
5
6
3
3
3
1
0
+2
5
11
C. Braun
26
3/5
1/2
4/6
1
1
2
0
3
1
1
0
+7
11
9
37/82
11/33
22/36
10
30
40
21
23
9
12
3
107
109
phoenix

/

105
Shots
Bounces
Players
Minimum
Shots
3 points
LF
O
D
T
pd
party
Int
bp
CT
+/-
Points
Rating
T.Craig
20
1/4
1/3
0/0
1
3
4
2
3
0
1
2
+4
3
7
Mr Bridges
27
5/10
3/5
1/1
1
2
3
4
2
1
0
0
+7
14
17
D.Ayton
27
9/12
0/0
1/3
2
9
11
1
2
3
0
1
+3
19
30
C. Paul
29
1/4
1/2
3/3
0
5
5
8
2
1
1
0
0
6
16
D.Booker
28
5/17
2/9
8/8
0
3
3
2
4
1
2
1
+4
20
13
I. Wainright
7
1/3
0/2
0/0
0
2
2
0
4
0
1
0
-3
2
1
J.Okogie
15
1/4
0/2
1/2
1
0
1
0
2
0
4
0
-5
3
-4
J.Landale
21
4/10
1/4
1/2
2
4
6
1
2
1
1
1
-5
10
11
F.Jackson
5
0/0
0/0
0/0
0
0
0
0
1
0
0
0
-1
0
0
D.Washington Jr.
19
3/10
2/6
2/2
1
1
2
6
1
0
1
0
-2
10
10
D.Lee
22
3/5
2/3
2/3
0
3
3
0
2
0
2
0
-3
10
8
T. Luwawu-Cabarrot
19
2/3
0/1
4/4
1
2
3
1
2
0
1
0
-9
8
10
35/82
12/37
23/28
9
34
43
25
27
7
14
5
105
119