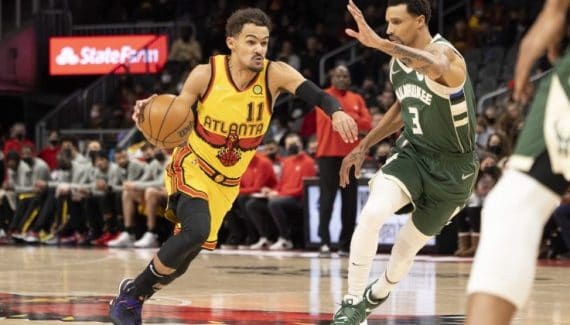 November 22. Since that date, the Hawks had not won in front of their public, and game after game, they sank into mediocrity with a catastrophic defense. But Martin Luther King Day inspired them, and Trae Young's teammates find the physical and mental resources to make the difference in the last quarter, and win 121-114 against the Bucks.
However, Milwaukee had the game in hand with an 11-point lead nine minutes from the end (97-86), and even another 10-point lead with seven minutes remaining. But the Bucks will mess up their basketball with a lot of trash, and it's Danillo Gallinari who wakes up his teammates with the And-1. Then Trae Young steals a ball, transformed into 3-pointers by De'Andre Hunter. In one minute, the Hawks have halved the gap (100-97).
Middleton loses a ball, then he continues with an offensive foul. Young then Gallinari sanctioned, and the Hawks went ahead (104-103). Suddenly, the Hawks are playing fair, and Kevin Huerter "à la Tyler Herro" then Young, at 3-pointers, drive the point home (111-105). It only remains to manage the last two minutes, and the arm of Young does not tremble at the free throws for a victory in form of deliverance.
TOPS/FLOPS
✅ Trae Young. There is still waste but 33 points, 11 assists, and a 14 of 14 in free throws, it's tough. He planted 14 points in the last quarter, and he found his 3-point address at the best time.
✅ Danilo Gallinari. It's not his best game of the season, but it's him who triggers it in the middle of the 4th quarter. The Italian plants 16 points at 80% on shots.
✅ Onyeka Okongwu. His defense in the last quarter on Giannis Antetokounmpo. And as a bonus, he scored a decisive basket.
✅ ⛔ Khris Middleton. It's been a long time since we've seen him so aggressive in attack. So aggressive that he loses 8 balls, so two at the worst time…
THE FOLLOWING
Milwaukee (27-19): Return home Wednesday to host the Grizzlies
Atlanta (18-25): Wednesday, the Hawks will try to follow up against the Wolves
Hawks

/

121
Shots
Bounces
Players
Minimum
Shots
3 points
LF
O
D
T
pd
party
Int
bp
CT
+/-
Points
Rating

J.Collins

31
5/15
3/9
3/4
2
10
12
2
1
1
3
-10
16
21

O.Okongwu

36
6/9
0/0
0/0
4
4
8
3
5
1
1
3
+11
12
23

D.Hunter

35
6/17
2/6
6/6
2
7
9
2
3
3
20
17

T. Young

40
7/17
2/6
14/14
4
4
11
1
1
3
+16
30
33

K.Huerter

37
5/15
3/7
0/0
2
6
8
3
3
2
1
1
+19
13
16

D. Gallinari

30
4/5
1/2
7/8
3
3
3
2
2
+13
16
18

L.Williams

14
3/5
2/3
0/0
1
3
1
-3
8
8

D.Wright

15
2/2
2/2
0/0
2
2
2
1
-6
6
9

T. Luwawu-Cabarrot

4
0/1
0/1
0/0
1
-5
-2
Total
38/86
15/36
30/32
10
36
46
25
18
7
13
7
121
bucks

/

114
Shots
Bounces
Players
Minimum
Shots
3 points
LF
O
D
T
pd
party
Int
bp
CT
+/-
Points
Rating

G. Antetokounmpo

37
8/20
1/3
10/14
1
5
6
6
4
1
5
1
-17
27
20

K.Middleton

35
11/22
4/9
8/8
7
7
4
5
2
8
2
-3
34
30

B.Portis

32
6/12
1/4
0/0
4
9
13
3
1
1
+8
13
22

G.Hill

31
2/4
1/3
0/0
1
2
3
2
3
+3
5
8

G.Allen

29
3/6
1/2
2/2
2
2
4
2
1
+7
9
13

J.Nwora

6
0/2
0/2
0/0
1
1
1
-2
-1

W. Matthews

21
1/6
1/3
0/0
1
1
2
6
1
+2
3
1

P. Connaughton

27
5/6
4/5
0/0
6
6
2
3
1
-21
14
22

D.DiVincenzo

22
3/10
3/7
0/0
2
2
3
1
1
-12
9
8
Total
39/88
16/38
20/24
9
33
42
21
28
8
13
4
114