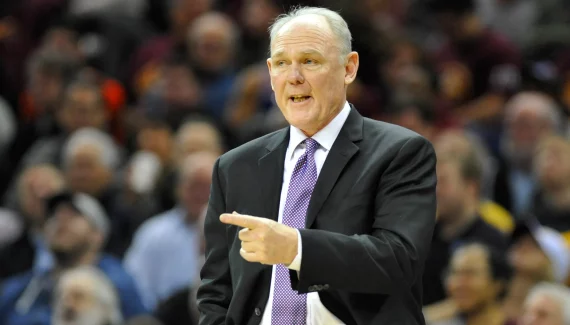 The obsession with winning the NBA title doesn't just exist among players. The coaches are also concerned by this race. Not winning a trophy is an indelible mark, a deep lack in a prize list. Coaches like Jerry Sloan, Don Nelson or George Karl have constantly heard this observation, even suffered from it, over the years.
The latter spent 27 seasons on the benches of the NBA, he won 1,175 games, played in the playoffs 22 times, took the Sonics to the Finals against Michael Jordan's Bulls and was elected coach of the year in 2013. But one thing kept coming back: the ring was leaking from him.
"I have always been nervous about this subject", he confesses to the NBA website. "Sometimes even a little pissed off. But you know, honors and recognition, it comes and it comes. I've never been to the top of the mountain, I've never won this title, but I think the Hall of Fame will cure some of my failures. I can accept them a little more now. "
The failures are obviously the 824 losses in the regular season, the negative record in the playoffs (80 wins for 105 losses), the setback in the Finals against Phil Jackson and Chicago in 1996 and finally the five times he took the door…
"With the Hall of Fame, I can say to myself that it may be better than winning the trophy"
However, as only 35 coaches have won the title out of the 345 who have operated in the NBA, is it so infamous not to have managed to put his name on the list?
" It does not matter "assures Bobby Jones, Hall of Famer for three years and who will present George Karl to the pantheon with Gary Payton and Roy Williams. "If you have Kobe Bryant or Kareem Abdul-Jabbar on your roster, and you're not playing the Finals or winning the title, then you shouldn't be in the Hall of Fame. For someone like George, who had talented players but no legends, he was extraordinary. "
Sam Mitchell, present in Karl's staff in 2002/2003 in Milwaukee, prefers to keep the memory of a flexible coach, with ideas.
"I love that about George: he wasn't afraid to try new things. When I was playing, the coaches had too rigid approaches. With Karl, I learned that: you don't know how long you'll keep this job, so don't be afraid. That's why players loved playing under him. He let them try things. "
This certainly did not make him a champion, but a Hall of Famer, like 19 other NBA and ABA coaches. Technicians who have entered the Pantheon are therefore rarer than those with a ring on their finger. Is this finally a good consolation?
"In my life, there will undoubtedly be times when I will tell myself that I would have liked to win a title", concludes George Karl. "With the Hall of Fame, I can say to myself that it is perhaps better than winning the trophy. I can move on. "