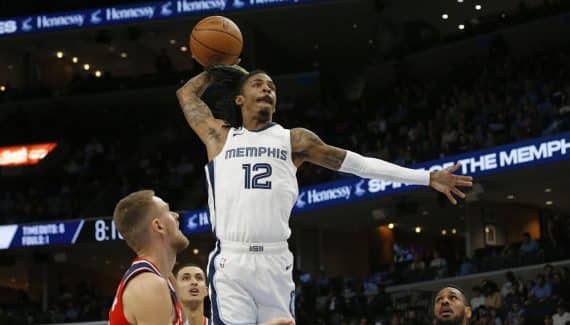 Quietly, the Grizzlies are on the Western Conference podium, and tonight they won their 7th victory in ten games, winning 103-97 against Wizards deprived of Bradley Beal. A complicated success since Washington had taken the best start (9-0), and it was not until good passages from Brandon Clarke and Jake Laravia that the Grizzlies took control in the 2nd quarter. Ja Morant and Desmond Bane take over, and at the break, Memphis took off: 57-43.
The gap will even reach 23 points after returning from the locker room thanks to Clarke and Bane. We think the Grizzlies are quietly heading for victory except that the Wizards suddenly wake up to sign a… 19-0! In a few minutes, Memphis' lead is only two small points. The fourth quarter is of high quality, and Washington even passes in front (87-85)! It is ultimately through their defense that the Grizzlies manage to repel the Wizards. For seven minutes, Monte Morris teammates only scored four points, and Memphis won 103-97.
WHAT YOU MUST REMEMBER
– Porzingis' quick faults. Absent Bradley Beal, the Wizards offense relied more on Kristaps Porzingis, and under his leadership, and that of Monte Morris, Washington had got off to the better start. But the Latvian took two fouls in six minutes, and he will remain on the bench for 12 minutes. As he exits, Washington was leading 17-8. When he returns, Memphis took a 13-point lead (45-32).
– The impact of Steven Adams. Hit in the ankle at the start of the third quarter, Adams left his teammates at +15. He remains in care for a long time, before finally returning in the middle of the 4th quarter. When he comes back, the Wizards are ahead! But his presence is precious, and Washington will come up against a wall.
TOPS & FLOPS
✅ Desmond Bane. It has been several matches that he found his best level, and his accuracy hurt the Wizards: 28 points on 9 of 16 on shots.
✅ Brandon Clarke. He is the one who wakes up the Grizzlies in the first half with his activity and his sure hands. He misses the easiest on a dunk, but finishes 7 of 8 on shots.
✅ Monte Morris. A real poison at the start of the match against a Ja Morant in great difficulty. He constantly broke the first curtain. Less comfortable against Tyus Jones.
⛔️ Kristaps Porzingis. He didn't like the tough fight imposed by Steven Adams, and his two quick fouls took him out of the game completely. 3 out of 13 on shots for the Latvian who, like his teammates, did not have the compass in his eye at 3-points: 1 out of 6.
THE FOLLOWING
Memphis (7v-3d) : reception of the Celtics this Monday evening
Washington (4v-6d) : trip to Charlotte this Monday evening
Memphis

/

103
Shots
Bounces
Players
Minimum
Shots
3 points
LF
O
D
T
pd
party
Int
bp
CT
+/-
Points
Rating
S.Aldama
27
2/9
0/4
0/1
10
10
2
3
3
+6
4
11
D. Brooks
30
4/14
0/4
1/1
1
4
5
1
1
2
+3
9
7
S. Adams
22
2/2
0/0
0/0
5
5
10
1
3
1
+9
4
14
J Morant
33
9/27
1/4
4/6
2
7
9
6
1
4
+3
23
15
D. Bane
35
9/16
4/8
6/6
3
3
4
1
1
1
-1
28
28
B.Clarke
21
7/8
0/0
2/2
5
5
1
2
1
2
+5
16
22
J.LaRavia
16
2/3
2/3
0/0
1
1
1
2
+6
6
7
X.Tillman
4
0/1
0/0
1/2
2
2
3
2
-8
1
-1
T.Jones
19
2/5
1/3
2/2
3
1
1
+12
7
7
J.Konchar
15
1/3
0/1
0/0
2
2
4
1
2
-1
2
5
D. Roddy
16
1/3
1/2
0/0
1
1
-4
3
2
39/91
9/29
16/20
12
38
50
20
17
8
10
2
103
117
Washington

/

97
Shots
Bounces
Players
Minimum
Shots
3 points
LF
O
D
T
pd
party
Int
bp
CT
+/-
Points
Rating
K. Kuzma
34
5/14
2/9
0/0
2
9
11
2
3
3
2
-5
12
15
C.Kispert
24
3/6
0/3
0/1
3
3
3
-15
6
8
D.Avdija
26
2/12
0/5
0/0
4
6
10
2
1
2
-16
4
4
K.Porzingis
31
3/13
1/6
3/4
1
3
4
3
5
1
4
3
+2
10
6
Mr Morris
33
7/12
2/5
2/2
1
1
1
-9
18
15
A. Gill
3
0/0
0/0
0/0
1
1
1
+6
2
R. Hachimura
22
7/12
1/3
0/1
1
2
3
2
1
15
11
T.Gibson
4
1/2
0/1
0/0
1
1
1
-11
2
3
W.Barton
24
5/12
1/5
1/1
4
4
5
2
+3
12
14
D.Gafford
14
4/6
0/0
1/1
2
3
5
2
3
+3
9
14
J.Goodwin
26
4/7
1/4
0/0
4
4
8
5
3
2
1
+12
9
22
Total
41/96
8/41
7/10
15
34
49
25
21
5
10
5
97
113