Basketball News
The Grizzlies allow their young fans to exchange their jerseys from other teams | NBA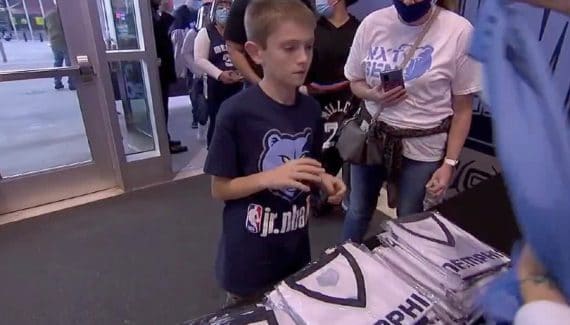 The scene had been much commented on. At the end of the match against the Warriors, played in Memphis, Ja Morant refused to clap a young fan in the hand, because the latter was wearing a Stephen Curry jersey…
The playmaker had thus stared at the supporter, explaining after the meeting that he took it "for a lack of respect" that a Tennessee supporter came to games with a jersey from the opponent of Memphis. Enough to give an idea to Ja Morant and his club, who immediately launched a jersey exchange operation!
Prior to the game against Wolves, fans under 12 had the opportunity to obtain a shirt of Ja Morant or Jaren Jackson Jr. against the shirt of a player from another team.
As a bonus, they also received two tickets for the meeting of the evening against Minnesota.
And the operation was a big success, while the Grizzlies are currently the most in-form team in the NBA, with 11 consecutive victories and the 3rd place in the West. The club has thus recovered a lot of opposing jerseys, including those of Allen Iverson, Michael Jordan, LeBron James, Zion Williamson or Mike Conley.
Shots
Bounces
Players
GM
Minimum
Shots
3 points
LF
Off
Def
Early
pd
bp
Int
CT
party
Points
Ja Morant
30
32.4
48.9
37.9
76.7
1.3
4.4
5.7
6.7
3.1
1.3
0.5
1.3
24.9
Dillon Brooks
21
27.9
42.6
32.7
88.9
0.8
2.5
3.3
2.7
1.8
1.3
0.2
3.3
18.4
Desmond Bane
42
29.9
46.7
42.7
87.7
0.5
4.0
4.5
2.4
1.5
1.0
0.5
2.5
17.5
Jaren Jackson, Jr.
42
27.4
40.9
31.2
84.0
1.3
4.3
5.6
1.1
1.7
1.1
2.0
3.4
16.3
De'anthony Melton
34
23.5
39.1
31.7
75.0
1.0
3.4
4.4
2.9
1.6
1.6
0.6
1.9
9.8
Brandon Clarke
29
17.6
64.7
13.3
65.4
1.9
3.3
5.2
1.4
0.5
0.3
1.0
1.7
9.4
Tyus Jones
42
21.4
47.8
40.2
91.7
0.3
2.5
2.8
4.2
0.8
0.9
0.0
0.5
8.4
Kyle Anderson
35
22.6
43.8
33.8
67.3
0.9
4.4
5.3
2.7
1.1
1.1
0.6
1.5
8.3
steven adams
40
25.6
53.0
0.0
60.0
4.3
5.1
9.4
3.0
1.6
0.8
0.6
1.6
7.0
Zaire Williams
24
18.9
40.4
29.4
80.0
0.2
1.2
1.4
0.8
0.6
0.5
0.2
1.8
6.1
Xavier Tillman, Sr.
31
14.5
43.4
18.2
69.0
1.4
2.0
3.4
1.2
0.7
1.2
0.5
1.3
4.9
John Konchar
35
16.5
54.5
49.0
56.5
1.1
2.8
3.9
1.3
0.4
0.8
0.2
1.2
4.6
Jarrett Culver
17
10.6
43.5
22.7
50.0
0.3
1.4
1.7
1.1
0.2
0.5
0.1
0.9
4.2
Sam Merrill
6
9.6
33.3
30.4
50.0
0.2
1.0
1.2
0.7
0.3
0.0
0.0
0.5
4.2
Santi Aldama
22
10.9
37.6
11.4
57.9
1.0
1.7
2.7
0.6
0.4
0.1
0.3
1.0
3.6
Killian Tillie
27
13.1
34.3
32.8
62.5
0.7
1.1
1.8
0.5
0.3
0.7
0.5
1.6
3.5
Dakota Mathias
4
1.9
50.0
50.0
0.0
0.0
0.5
0.5
0.0
0.0
0.0
0.0
0.2
1.5
Shaq Buchanan
2
4.9
25.0
0.0
0.0
0.5
0.5
1.0
1.0
1.0
0.5
0.0
0.5
1.0
Tyrell Terry
2
1.5
100.0
0.0
0.0
0.0
0.0
0.0
0.0
0.0
0.0
0.0
0.5
1.0
Daquan Jeffries
3
2.9
50.0
0.0
0.0
0.0
0.7
0.7
0.3
0.0
0.0
0.0
0.3
0.7
Yves Pons
6
3.5
33.3
100.0
0.0
0.3
0.5
0.8
0.0
0.0
0.0
0.0
0.3
0.5
Jon Teske
3
2.6
0.0
0.0
0.0
0.0
0.7
0.7
0.3
0.0
0.3
0.0
0.3
0.0
Xavier Sneed
2
3.8
0.0
0.0
0.0
0.5
0.5
1.0
0.0
0.0
0.0
0.0
1.0
0.0