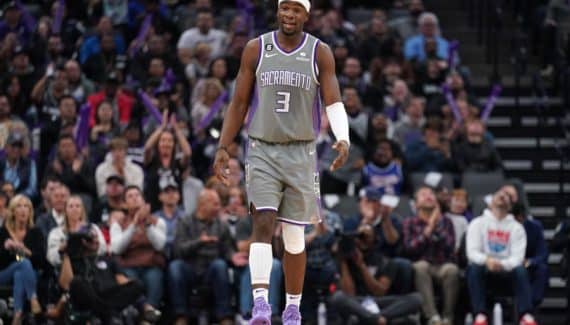 When Terence Davis catches fire, he rarely pretends. Like other "role players" with a penchant for attack, the back of the Kings is capable of transcending himself on certain evenings. The Nets learned that the hard way.
When the substitute appeared at the start of the second quarter, by countering Yuta Watanabe, the two teams were still tied (40-40). A 3-point shot in the corner, a stolen ball, a new winning shot in transition, a "floater" then a dunk after interception later, and the Kings were 12 points ahead!
The substitute therefore signed a 12-0 almost on his own. " TD was fantastic », can qualify his coach Mike Brown. The latter had not managed to get much out of his back since the start of the season. In 12 minutes of play, he posted an average of 6 points before this match, almost half as much as last year.
" I train all of our guys pretty hard. He takes my instructions and he's the most responsive guy I've ever met because I'm going to see him and he's going to say, 'Yes, coach. Don't let me go coach' ", reports the technician.
A feeling confirmed from behind for whom " tough love is the best love ". " He lets me know how hard he is on me. I like it because every time it means the coach is trying to get the best out of it. He wants us to give the best of ourselves and to perform », develops Terence Davis.
The rear was last night with a final line of 31 points (12/16 on shots including 7/10 from afar), obviously his season record, 9 rebounds, 4 assists and 3 steals in 26 minutes. Or 44 in evaluation and above all a +35 in score when he was in play!
" He made the gap and he made everyone's game easier with his defense, with his attacking game and his simple presence on the pitch. I am happy for him. He had a fantastic game on both sides of the pitch », Congratulates the coach again whose bench brought… 83 points in total.
Terence Davis
Percentage
Bounces
Season
Crew
GM
Minimum
Shots
3 points
LF
Off
Def
Early
pd
party
Int
bp
CT
Points
2019-20
TOR
72
17
45.6
38.8
86.4
0.7
2.6
3.3
1.6
1.7
0.5
1.1
0.2
7.5
2020-21 *
All Teams
61
18
42.8
36.7
81.8
0.3
2.2
2.5
1.4
1.6
0.7
1.0
0.2
8.7
2020-21 *
TOR
34
15
41.4
36.1
88.9
0.3
1.7
1.9
1.1
1.4
0.5
0.9
0.2
6.9
2020-21 *
BAG
27
22
43.9
37.2
78.4
0.4
2.9
3.3
1.7
1.8
1.0
1.3
0.3
11.1
2021-22
BAG
30
18
42.3
32.9
81.8
0.4
2.8
3.1
1.3
2.3
0.8
1.1
0.4
10.4
2022-23
BAG
11
13
43.4
33.3
85.7
0.5
2.0
2.5
1.3
1.7
0.6
0.5
0.2
6.4
Total
174
17
43.7
36.5
83.7
0.5
2.5
2.9
1.5
1.8
0.7
1.0
0.2
8.4