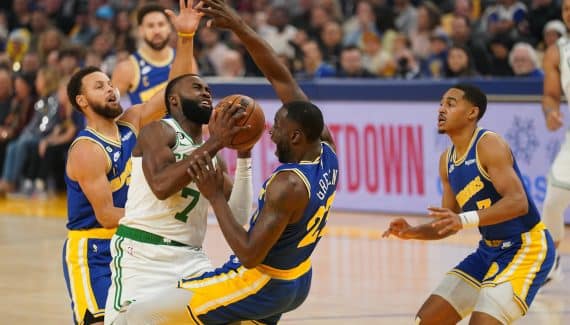 Undisputed leader of the NBA, Boston had the opportunity to validate its very good start to the season with a symbolic victory, in San Francisco, against the Warriors. This "remake" of the Finals was ideal to send a message to their executioners last June, but also to the rest of the NBA.
On arrival, a defeat of 16 points (123-107) and it was finally Golden State who sent a message to everyone.
"We did not put our shots" summarizes Jaylen Brown. "I think we could have done better in our readings of the game, we were a little too static in attack at times, and we gave way too many points in transition. We didn't really do that last year in the playoffs, but we did tonight. We look at it like it's the same two teams. That's the result, but I think it was a different game. »
"We played this match as if we had circled it for a long time on the calendar, instead of playing our game"
A "different game" because the Celtics and the Warriors have changed, between departures, arrivals, but also injuries. In Boston, Al Horford and Robert Williams were missing, while Golden State had to do without Andrew Wiggins, so good in the Finals. Paradoxically, the Celtics were more tense despite their dominance over the NBA since the start of the season.
"We were clearly not very tense this evening and there are certainly elements on which we must continue to work", continues Brown. "But last season is over. Obviously we had to learn from that and move on, and we did. We played this match as if we had circled it for a long time on the schedule, instead of playing our game."
For Jayson Tatum, the credit also goes to the Warriors whose defense was exemplary. "They just did a good job of keeping up with us, and kind of slowing us down. I think that tonight, in attack, we just didn't play with the usual rhythm. We were static most of the time. We should have done better in terms of adjustment during the match. »
Shots
Bounces
Players
GM
Minimum
Shots
3 points
LF
Off
Def
Early
pd
bp
Int
CT
party
Points
Jayson Tatum
25
36.6
48.0
36.5
86.3
1.1
7.1
8.2
4.1
2.8
1.0
1.0
2.2
30.5
Jaylen Brown
24
35.6
49.8
34.5
83.8
1.0
6.0
7.1
3.6
3.0
1.0
0.4
2.6
26.7
Malcolm Brogdon
21
23.1
50.0
49.4
85.7
1.0
3.1
4.1
3.8
1.9
0.5
0.2
1.5
14.0
Marcus Smart
23
32.8
45.2
34.7
76.7
0.4
2.7
3.2
7.6
2.3
1.2
0.3
3.0
11.7
Derrick White
26
25.9
46.3
42.7
89.6
0.6
2.4
3.0
3.4
0.9
0.9
0.7
2.5
10.6
Al Horford
20
31.6
53.7
46.6
62.5
1.0
5.3
6.3
2.8
0.8
0.5
1.0
2.0
10.2
Grant Williams
25
28.7
55.3
46.7
85.7
0.9
3.8
4.6
1.8
0.8
0.7
0.4
2.8
9.3
Sam Hauser
26
16.9
49.2
45.5
77.8
0.4
2.2
2.6
0.7
0.3
0.3
0.3
1.5
7.1
Blake Griffin
10
15.3
55.6
46.7
72.7
1.2
2.9
4.1
0.9
0.6
0.3
0.1
2.3
5.5
Payton Pritchard
15
12.0
41.1
36.6
70.0
0.6
1.0
1.6
1.1
0.9
0.4
0.1
0.5
5.5
Luke Kornet
21
13.7
71.0
33.3
93.8
1.2
2.4
3.6
0.9
0.5
0.2
1.0
1.6
5.0
Mfiondu Kabengele
1
8.3
50.0
0.0
0.0
3.0
1.0
4.0
0.0
0.0
0.0
0.0
1.0
2.0
noah vonleh
17
8.9
45.8
25.0
100.0
1.0
1.6
2.6
0.3
0.6
0.1
0.4
1.9
1.5
Jd Davison
3
2.8
25.0
0.0
0.0
0.0
0.3
0.3
0.3
0.3
0.3
0.0
0.0
0.7
justin jackson
10
5.6
15.4
18.2
0.0
0.0
0.6
0.6
0.4
0.0
0.2
0.1
0.3
0.6