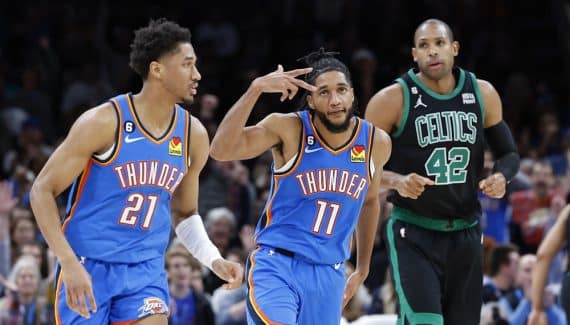 The Celtics' "road trip" to the West turns sour since Joe Mazzulla's players lost their footing last night at OKC: a 33-point defeat, 150 points conceded and even an expulsion! It's simply their worst performance of the season, and yet the Thunder were without their star player, Shai Gilgeous-Alexander.
In the wake of Jaylen Brown, Boston seemed to have taken the game by the right end, with a small point ahead after a quarter (34-33). But the rest will turn into a nightmare… Late on the rotations, the 2022 finalists are subject to the law of Isaiah Joe and the two Williams (Kenrich and Jalen). Under the panels, the absence of Robert Williams offers boulevards, and at the break, the Thunder took a 20-point lead (74-54)!
Back from the locker room, there was no feeling of revolt on the Boston side, which suffered a 10-0! Josh Giddey is responsible for driving the point home to pass the gap to +25, then it's Jalen Williams, on a dunk, who crosses the 30-point gap at the end of the 3rd quarter. The Mass is said, and the Boston coach leaves his substitutes on the field, while the Thunder wins its biggest victory of the season (+33).
WHAT YOU MUST REMEMBER
The expulsion of Marcus Smart. Regional stage with Blake Griffin, the leader of Boston will not keep a good memory of his annual visit to OKC. Furax after the arbitration at the end of the 3rd quarter, he receives a second technique, and he is expelled. His coach jumped on him to prevent it from degenerating.
Franchise Records. Lu Dort's teammates set themselves a franchise record with 150 points scored. Unheard of since the creation of the franchise in 2008. Another record: the 48 points scored in the 3rd quarter.
TOPS/FLOPS
✅ Josh Giddey. Always a treat to watch with his ease in passing and his opportunism in attack.
✅ The Mann/Joe duo. 21 points each for shooters off the bench. They combine an 8 of 15 from 3-pointers to spread the game, and offer wider avenues to their teammates.
⛔Boston Home Defense. Rarely have we seen Celtics so static and "disconnected" in defense. The absence of Robert Williams does not explain everything. Leaders like Smart and Horford were completely overwhelmed.
THE FOLLOWING
OKC (16-21) : back-to-back in Orlando tonight.
Boston (26-12) : Very perilous trip to Dallas on Thursday.
Oklahoma City

/

150
Shots
Bounces
Players
Minimum
Shots
3 points
LF
O
D
T
pd
party
Int
bp
CT
+/-
Points
Rating
Jall. williams
33
10/18
0/4
1/3
0
3
3
6
3
4
0
0
+22
21
24
K.Williams
24
3/6
2/3
2/2
2
3
5
3
3
1
1
0
+14
10
15
A. Wiggins
32
7/8
2/2
1/1
2
4
6
3
0
0
2
0
+22
17
23
J.Giddey
24
10/15
3/5
2/2
0
5
5
5
2
2
0
0
+19
25
32
L. Dort
28
8/15
3/6
4/5
3
2
5
3
1
2
3
0
+31
23
22
D. Bazley
9
1/3
0/0
2/4
0
1
1
1
1
0
1
0
-7
4
1
Jay. williams
16
3/6
2/3
0/0
1
6
7
3
4
2
1
0
+12
8
16
Mr Muscala
13
0/3
0/2
0/0
0
2
2
0
5
0
1
1
+3
0
-1
T. Mann
32
8/11
5/8
0/1
0
6
6
3
2
3
3
2
+31
21
28
I.Joe
28
8/13
3/7
2/4
1
3
4
4
2
0
1
0
+18
21
21
58/98
20/40
14/22
9
35
44
31
23
14
13
3
150
181
Boston

/

117
Shots
Bounces
Players
Minimum
Shots
3 points
LF
O
D
T
pd
party
Int
bp
CT
+/-
Points
Rating
J. Tatum
30
9/17
2/7
7/7
1
5
6
2
2
0
4
0
-25
27
23
A.Horford
22
1/3
0/1
0/0
0
2
2
1
0
0
0
0
-20
2
3
Mr. Smart
26
3/6
0/2
1/2
1
3
4
8
2
0
3
1
-26
7
13
D. White
22
2/8
1/6
3/3
1
3
4
6
3
0
2
2
-3
8
12
J.Brown
25
11/18
2/7
5/9
0
1
1
2
3
0
1
0
-28
29
20
B. Griffin
12
0/1
0/1
0/0
0
2
2
2
1
1
0
1
-2
0
5
N.Vonleh
6
0/0
0/0
0/0
1
0
1
1
1
0
0
0
-1
0
2
G.Williams
16
0/1
0/1
0/0
2
2
4
2
1
0
3
0
-20
0
2
J.Jackson
6
1/3
1/2
1/2
1
0
1
1
0
0
0
1
-1
4
4
S. Hauser
23
2/6
2/6
0/0
1
3
4
0
0
1
3
0
-5
6
4
L.Kornet
11
0/0
0/0
0/0
0
0
0
1
0
0
0
1
-8
0
2
Mr. Brogdon
26
4/12
1/3
8/8
3
6
9
3
2
2
0
1
-21
17
24
P. Pritchard
15
7/13
3/4
0/0
0
0
0
0
0
0
1
0
-5
17
10
Total
40/88
12/40
25/31
11
27
38
29
15
4
17
7
117
124