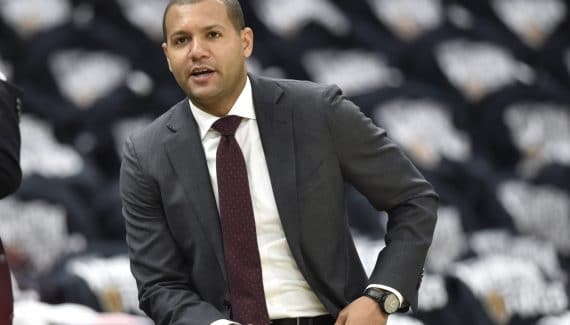 It was far from won at the end of the summer but Cleveland is on the way to winning its bet. The Cavs have been hoarding young talent in recent seasons in hopes that things will click, and it did with the signings of Ricky Rubio and Lauri Markkanen, and the draft pick of Evan Mobley.
With its "very tall ball", Cleveland thus created a surprise by climbing up to the Top 4 of the Eastern Conference to point today in 6th position, thus exceeding the expectations of the franchise for this season.
Great architect of this sudden success, for his Draft choices since the departure of LeBron James and the paying option of having bet on JB Bickerstaff as coach, Koby Altman thus accepted a contract extension from the Cavaliers. The two sides are now tied until 2027/28.
Arrived in the "front office" of the Cavs in 2012, Koby Altman was appointed GM in 2017. He will now occupy the double cap of GM and president, precise ESPN. As JB Bickerstaff has also just been extended until 2027, the Cavaliers will be able to work calmly over the long term. Provided that the bad luck spares them somewhat since Collin Sexton and Ricky Rubio are "out" for the season.
Shots
Rebounds
Players
MJ
Min
Shots
3pts
LF
Off
Def
Early
Pd
Bp
Int
Ct
Fte
Pts
Darius Garland
35
34.3
46.9
38.0
90.5
0.5
2.5
3.0
7.3
3.7
1.3
0.1
1.7
19.4
Jarrett Allen
34
32.7
69.9
12.5
70.5
3.4
7.5
10.9
1.8
1.8
0.9
1.5
1.8
16.9
Collin Sexton
11
28.8
45.0
24.4
74.4
1.2
2.1
3.3
2.1
2.8
0.9
0.0
2.3
16.0
Evan mobley
33
34.0
50.1
29.4
73.5
1.7
6.4
8.1
2.6
1.8
0.8
1.8
2.2
14.8
Kevin Love
33
21.5
43.1
41.1
88.1
1.2
6.3
7.4
2.1
1.2
0.3
0.2
1.0
14.2
Lauri Markkanen
32
30.4
41.3
30.9
86.2
1.1
4.2
5.3
1.7
0.8
0.7
0.5
1.8
13.3
Ricky Rubio
34
28.5
36.3
33.9
85.4
0.4
3.7
4.1
6.6
2.6
1.4
0.2
2.2
13.1
Cedi Osman
29
22.9
45.3
39.8
69.4
0.4
2.3
2.7
1.8
0.9
1.0
0.3
1.8
11.4
Rajon Rondo
3
21.7
41.7
42.9
83.3
0.3
3.7
4.0
4.7
2.3
1.0
0.0
2.0
10.3
isaac okoro
27
28.4
45.4
32.1
71.9
1.2
2.4
3.6
1.9
1.1
0.8
0.3
2.5
9.0
Malik Newman
1
7.7
60.0
0.0
100.0
0.0
1.0
1.0
1.0
1.0
0.0
0.0
0.0
8.0
Brandon Goodwin
3
22.7
38.5
0.0
25.0
0.7
3.0
3.7
4.7
1.7
0.7
0.0
2.3
7.3
Dean Wade
29
19.7
43.2
32.9
76.9
0.8
2.6
3.4
1.2
0.4
0.5
0.1
1.6
5.0
lamar stevens
27
14.0
44.1
32.4
63.2
0.7
1.4
2.1
0.6
0.5
0.3
0.2
1.4
4.5
Justin anderson
3
15.5
50.0
33.3
75.0
0.0
2.0
2.0
2.0
0.7
0.3
0.0
1.3
4.3
Tre Scott
2
5.7
50.0
0.0
0.0
0.5
0.5
1.0
0.0
0.0
0.5
0.5
1.0
3.0
Denzel Valentine
22
9.3
37.1
40.9
0.0
0.4
1.3
1.7
0.5
0.5
0.3
0.0
0.8
2.9
Dylan Windler
26
10.4
43.1
40.0
75.0
0.5
1.5
2.0
0.9
0.4
0.3
0.1
1.1
2.7
Rj Nembhard
5
8.0
45.5
0.0
50.0
0.0
0.4
0.4
2.0
0.2
0.0
0.0
0.4
2.2
Kevin Pangos
18
8.7
33.3
23.1
75.0
0.1
0.4
0.6
1.7
0.4
0.1
0.0
0.6
2.2
Luke Kornet
2
7.4
20.0
0.0
66.7
1.0
0.5
1.5
0.5
0.0
0.0
0.5
0.5
2.0
Ed davis
12
9.3
75.0
0.0
16.7
0.4
2.7
3.1
0.1
0.2
0.2
0.6
1.4
1.6
Tacko Fall
11
5.3
41.7
0.0
28.6
0.6
1.5
2.1
0.2
0.3
0.0
0.5
0.3
1.1