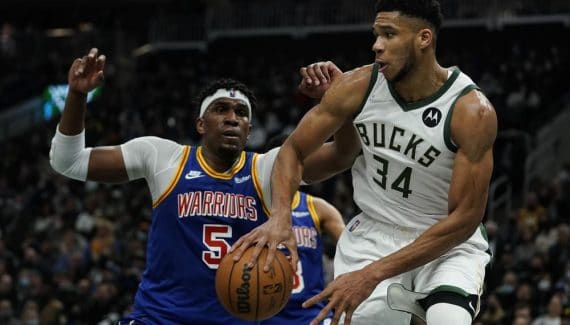 Returning from his isolation, Mike Budenholzer could hardly have dreamed of a better part of his troops. The Bucks simply crushed the Warriors: 39 points difference at the break, a victory of 19 points finally, a Giannis Antetokounmpo in triple-double, 18 baskets at 3-pts scored…
The defending champions have thus washed away the affront, after the two defeats in a row in Charlotte.
"It was a rebound for us", says Bobby Portis at JS Online. "We lost twice against the Hornets, so we had a bitter taste in our mouths since Monday night. For three days, we did video sessions and the coach was on our backs. We had the opportunity to play against one of the best teams in the league. It's a big win for us. Everyone had fun and that makes me happy. »
Bobby Portis first, who scored an award-winning basket at the second quarter buzzer, and finished with 20 points. It was a festival in attack, but the coach preferred to focus on the defense, which was very efficient even though Jrue Holiday was absent. The Warriors were held to 34% shooting, 33% 3-point and Stephen Curry scored just 12 points.
"We were very focused", notes Mike Budenholzer. "You are never better than when you defend hard. A team like Golden State, with Curry or Klay Thompson, forces you to evolve at your best level. We have to be as focused as possible. »
Even if the Californians were deprived of Draymond Green, it is another significant victory for the Bucks, against a big team. Because last week, the 2021 champions had already dominated the Nets (109-121) in Brooklyn. Facing the Top 8 of the West, Giannis and his band are four wins in five matches.
"I don't know why we are so good in big matches", wonders the Greek for ESPN. "But deep down, you have to keep building good habits. Whether it's for big posters or for matches that nobody cares about, we don't care. We must have the right reflexes. So we can be good in May and June. »
Good news for Milwaukee: the big matches will follow in the next seven days since Toronto, Atlanta, and especially Memphis then Chicago will be on the program.
Shots
Bounces
Players
GM
Minimum
Shots
3 points
LF
Off
Def
Early
pd
bp
Int
CT
party
Points
Giannis Antetokounmpo
34
32.5
54.1
28.4
70.0
1.9
9.6
11.4
6.0
3.4
1.1
1.4
3.2
28.4
Khris Middleton
31
31.5
43.2
37.7
88.4
0.7
4.8
5.5
5.3
3.2
1.1
0.2
2.3
19.1
Jrue Holiday
33
33.1
49.9
38.2
70.9
0.9
3.7
4.6
6.7
2.8
1.6
0.6
1.8
18.4
Bobby Portis
34
28.4
48.1
42.8
78.9
2.9
6.4
9.2
1.4
1.6
0.8
0.8
2.7
15.4
Grayson Allen
36
28.4
41.4
38.9
85.4
0.4
2.9
3.4
1.3
0.6
0.8
0.4
1.4
11.9
Pat Connaughton
40
28.1
47.1
39.5
78.8
0.7
3.9
4.6
1.4
0.7
1.0
0.3
1.2
10.8
Jordan Nwora
33
21.2
42.0
39.0
82.4
0.8
3.3
4.1
1.1
1.1
0.5
0.4
1.2
9.1
Demarcus Cousins
17
16.9
46.6
27.1
81.6
1.4
4.4
5.8
1.1
0.9
0.9
0.5
2.7
9.1
Brook Lopez
1
28.2
33.3
50.0
0.0
2.0
3.0
5.0
0.0
0.0
1.0
3.0
3.0
8.0
george hill
33
25.6
44.5
30.8
94.7
0.8
2.3
3.2
2.4
0.9
0.8
0.2
1.5
7.1
Wesley Matthews
15
20.3
50.0
42.9
50.0
0.5
1.5
2.1
0.8
0.5
0.4
0.3
1.5
7.0
Donte Divincenzo
4
16.6
16.0
23.5
92.3
1.8
3.5
5.2
0.5
1.5
0.2
0.0
1.2
6.0
Sandro Mamukelashvili
22
11.9
42.7
37.1
75.0
1.2
1.2
2.4
0.5
0.4
0.3
0.3
0.8
3.9
Rodney Hood
32
16.1
35.7
31.5
92.9
0.3
1.6
1.9
0.8
0.2
0.3
0.1
0.8
3.7
Thanasis Antetokounmpo
27
12.1
45.7
9.1
62.5
1.1
1.7
2.9
0.7
0.6
0.5
0.2
2.0
3.3
justin robinson
17
11.6
31.6
27.0
100.0
0.1
0.6
0.8
1.2
0.6
0.5
0.0
1.0
2.8
Semi Ojeleye
16
17.9
21.2
21.1
81.8
1.6
2.0
3.6
0.3
0.3
0.2
0.3
1.6
2.8
Ja'vonte Smart
13
12.3
25.6
22.2
83.3
0.3
1.2
1.5
1.1
0.7
0.3
0.2
0.8
2.4
Georgios Kalaitzakis
9
5.3
45.5
50.0
44.4
0.4
0.4
0.9
0.0
0.4
0.1
0.1
0.9
1.8
Langston Galloway
3
16.2
7.7
0.0
0.0
0.7
2.7
3.3
2.3
0.3
0.3
0.0
0.7
0.7
Javin Delaurier
1
2.8
0.0
0.0
0.0
0.0
1.0
1.0
0.0
0.0
1.0
0.0
1.0
0.0
Luke Kornet
1
3.0
0.0
0.0
0.0
1.0
0.0
1.0
0.0
0.0
0.0
0.0
1.0
0.0
Jeff Dowtin
1
3.0
0.0
0.0
0.0
0.0
0.0
0.0
0.0
0.0
0.0
0.0
0.0
0.0