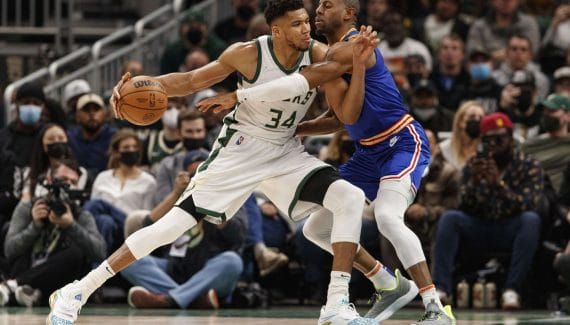 After almost three months of competition, some think that a Bucks / Warriors could well be the poster for the next Finals. While waiting to get there, the two teams challenged each other last night at the Fiserv Forum and it was the defending champions who enforced their law at home (118-99).
And how ! Because, beyond the raw result, it's really the way that really matters, since Milwaukee has: massacred, crushed, humiliated (your choice) Golden State. No more no less. An impressive show of force offered, collectively, by the men of Mike Budenholzer, obviously led by a Giannis Antetokounmpo of the big nights (30 points, 12 rebounds, 11 assists and 3 blocks, in 30 minutes!).
Khris Middleton (23 points, 5 rebounds, 7 assists) and Bobby Portis (20 points, 7 rebounds) were not left out either for the Wisconsin franchise, irresistible in the first half (77-38!) and who simply left no chance to the teammates of Stephen Curry (12 points, 4/11 on shots) and Klay Thompson (11 points, 3/11 on shots).
The Bucks are taking advantage of this as a bonus to regain their morale, after their four defeats in five games, while the Warriors have now won only one of their last five meetings…
WHAT YOU MUST REMEMBER
— Milwaukee's perfect first half. 77 points scored, 38 points against, 63% on shots, 50% from 3-pointers, 11 ball losses and 10 fouls caused, 14 points scored in counter-attack, 18 assists, 31 to 20 in rebounds, a basket in the buzzer… EVERYTHING, absolutely everything was coming in and going to the Bucks before the break! A veritable symphony, led by Giannis Antetokounmpo (23 points, 7 rebounds, 7 assists), Bobby Portis (17 points, 6 rebounds) and Khris Middleton (14 points, 4 rebounds, 5 assists), with snipers Grayson Allen and Wes Matthews who joined the party. What a treat, what insolence!
— Unrecognizable Golden State. Without Draymond Green, these Warriors are obviously no longer the same and this trip to Wisconsin demonstrated it. It did not take long to realize that Steve Kerr's men were going to have a bad evening. Exploded in the racket by Giannis Antetokounmpo, handicapped by faults, clumsy as possible and absent subscribers in defense, the "Dubs" sank minute after minute, without managing to react for a single moment. The second period will have at least allowed them to make the score more flattering but, whatever happens, this setback is worrying to say the least.
— The message from Milwaukee. Carpet in the shadows since the start of the season, the Bucks were necessarily keen to shine tonight, on national air, against these Warriors that some imagine taking back their throne this year. Very quickly, the defending champions therefore tried to remember who they were, under the impetus of Giannis Antetokounmpo, Khris Middleton and Bobby Portis. In order to succeed in this new reference match against a contender for the Larry O'Brien trophy. Because, yes: even without Jrue Holiday and Brook Lopez, the Wisconsin franchise remains capable of giving lessons to choice opponents.
TOPS/FLOPS
✅ The Milwaukee Holders. From Giannis Antetokounmpo to Bobby Portis, via Khris Middleton, Grayson Allen and Wes Matthews, the entire Bucks starting five shone tonight. Once again imperial in a big meeting, the "Greek Freak" masterfully led his collective, which surfed on his excellent match to punish each defensive error of the Warriors. The circle seemed huge for the local shooters, while the interiors walked on the racket of the "Dubs", short of solutions in front of the dangerousness of the opposing attackers. A true masterpiece, produced as a team.
⛔️ Golden State's first half. Before finding some colors after returning from the locker room, and reducing the gap somewhat, the Warriors first delivered a terrible first 24 minutes. So much so that they were already 39 units behind at the break, the 3rd biggest deficit in their entire history, in a single half! Terribly clumsy (25% on shots, 20% on 3-points, etc.) and dominated in all areas of the game, Steve Kerr's men simply fell on stronger than them and they will quickly have to forget this spanking, because they will play this Friday in Chicago. Another cador from the East…
THE FOLLOWING
Milwaukee (27-17) : Toronto reception, on the night of Saturday to Sunday (00:30).
Golden State (30-11) : "back-to-back" in Chicago, this Friday evening (1:30 a.m.), without Klay Thompson (rest) and probably Andre Iguodala (rest), Otto Porter Jr. (rest) and Gary Payton II (hit in the back last night) .
bucks

/

118
Shots
Bounces
Players
Minimum
Shots
3 points
LF
O
D
T
pd
party
Int
bp
CT
+/-
Points
Rating

G. Antetokounmpo

30
11/17
0/2
8/12
2
10
12
11
2
5
3
+22
30
41

K.Middleton

30
7/13
5/7
4/4
5
5
7
1
1
2
+20
23
28

B.Portis

25
8/16
4/7
0/0
7
7
4
1
2
1
+27
20
19

W. Matthews

23
2/3
2/3
0/0
3
3
1
+16
6
9

G.Allen

27
6/10
3/7
0/0
5
5
1
2
1
1
+15
15
18

S.Ojeleye

5
1/1
1/1
0/0
1
-8
3
4

S. Mamukelashvili

6
0/0
0/0
0/0
1
2
-8
3

T. Antetokounmpo

5
1/1
0/0
0/0
1
-8
2
2

J. Nwora

20
3/10
0/4
0/2
7
7
1
1
2
2
-10
6
5

G.Hill

18
0/4
0/2
0/0
1
2
3
4
1
1
+12
2

P. Connaughton

16
1/2
1/2
0/0
1
4
5
3
2
+4
3
10

R.Hood

13
1/1
1/1
0/0
2
1
1
+16
3
6

D.DiVincenzo

20
2/7
1/5
0/0
1
5
6
2
1
3
+5
5
4

L. Wigginton

5
1/1
0/0
0/0
1
1
1
-8
2
4
Total
44/86
18/41
12/18
5
49
54
29
16
10
16
8
118
Warriors

/

99
Shots
Bounces
Players
Minimum
Shots
3 points
LF
O
D
T
pd
party
Int
bp
CT
+/-
Points
Rating

A. Wiggins

28
6/11
2/5
2/2
2
2
1
1
2
1
-15
16
13

K.Looney

15
2/5
0/0
3/6
4
3
7
1
4
1
-3
7
10

S.Curry

29
4/11
2/6
2/2
8
8
4
2
4
-25
12
15

K.Thompson

21
3/11
2/7
3/3
1
1
2
1
1
1
1
-8
11
6

G. Payton II

5
0/1
0/1
0/0
1
1
2
1
1
1
-12
2

N.Bjelica

15
0/7
0/4
0/0
1
1
3
-2
-3

J.Kuminga

19
5/16
1/3
4/6
4
3
7
1
2
+6
15
11

A.Iguodala

13
1/3
0/1
0/0
1
1
2
1
1
1
-21
2
2

O. Porter Jr.

15
3/6
2/3
0/0
5
5
1
1
-4
8
12

J. Toscano-Anderson

18
3/6
3/5
0/2
2
2
1
1
2
1
-12
9
8

D.Lee

23
3/7
1/3
0/0
1
6
7
1
2
1
-12
7
10

J. Poole

24
2/7
2/7
3/3
3
3
2
2
+2
9
5

C.Chiozza

14
1/4
1/3
0/0
2
2
4
1
2
+11
3
4
Total
33/95
16/48
17/24
12
37
49
20
15
9
15
2
99