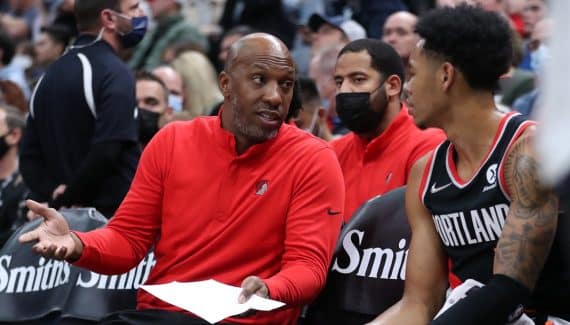 Unless the end of the year is perfect, the Blazers will not end the regular season with 50% of victories and qualification for the "play-in" is currently very uncertain, since the franchise is three victories behind tenth place in the West.
We are therefore heading towards a second failed season in a row for Portland and especially for Chauncey Billups, who arrived on the bench in 2021.
Should we therefore begin to imagine that the coach is in danger, faced with this lack of results? "People who think that way are stupid", replies Jerami Grant. Chauncey Billups does not only have the support of his players because, according to information from The Athleticthe idea of ​​firing him "didn't even cross my mind" leaders.
The main interested party, who says he is not "worried" and claims to have regular discussions with GM Joe Cronin, defends his record by highlighting the problems of the franchise for several months.
"It's crazy what's going on and how is it my fault? », asks the former Pistons player, faced with changes in the organization chart, the departure of CJ McCollum and the injury of Damian Lillard in 2021/2022. "Last season, I spoke to coaches who told me that with 15 or 17 years of experience, they had never seen this. So if I'm judged on wins and losses, then yes, I haven't been good. But you have to judge me on the progress of the players, on their adherence to a culture, on their involvement. »
"It's like that: we lose matches so people ask for a new coach"
And for this season? How can the coach justify the turn of events, good during the first days of competition then very average for several months now?
"The saddest thing about this story is that we were never able to field our team. We had injuries: Josh Hart, Gary Payton II, Justise Winslow… They would have helped us. We played well at the beginning, but the injuries arrived, then the transfers. It was complicated. »
Damian Lillard, who could well end his season prematurely if the hopes of qualifying for the "play-in" fly away, wanted to defend his coach.
"There are a lot of things that explain why a team is in trouble. I'm never a big fan of blaming the coach, back in the days of Terry Stotts. For the past two seasons, we had a young team and it's hard for a coach who is just starting out. But that's how it is: we lose matches so people ask for a new coach. We made the playoffs for eight seasons in a row and we said the same thing about Terry…"
Jerami Grant also emphasizes the difficult circumstances in Portland. The former Detroit has nothing to reproach Chauncey Billups.
"I think he brought us all together. Everyone was injured, there were transfers. It was complicated. But he did a great job of getting us to play hard for him. And he's sincere, he doesn't mince his words and doesn't sugarcoat anything. He tells us things as they are, and that's not always the case in the NBA. We then want to give ourselves for him. And after all, he learns, right? He will find the solutions. He has great potential. »
Shots
Bounces
Players
GM
Minimum
Shots
3 points
LF
Off
Def
Early
pd
bp
Int
CT
party
Points
Damian Lillard
56
36.3
46.7
37.7
91.5
0.8
3.9
4.7
7.2
3.3
0.9
0.3
1.9
32.4
Anfernee Simons
61
35.0
44.8
38.0
89.2
0.3
2.3
2.6
4.0
2.1
0.7
0.2
2.3
21.1
Jerami Grant
63
35.6
47.5
40.1
81.3
0.8
3.7
4.5
2.4
1.8
0.8
0.8
2.4
20.5
Jusuf Nurkic
50
26.7
51.4
35.1
65.9
2.2
6.9
9.1
2.8
2.3
0.8
0.8
3.6
13.0
Cam Reddish
15
29.6
45.6
34.6
80.0
0.6
2.6
3.2
2.3
1.9
1.5
0.2
2.2
12.6
Josh Hart
51
33.4
50.4
30.4
73.1
1.9
6.3
8.2
3.9
1.5
1.1
0.2
2.6
9.5
Matisse Thybulle
14
29.1
46.8
41.0
66.7
1.1
2.6
3.8
1.6
0.6
1.9
0.9
2.4
8.4
Shaedon Sharpe
69
20.2
47.5
35.0
67.2
0.7
1.8
2.5
0.8
0.8
0.4
0.3
1.7
7.9
Justise Winslow
29
26.8
40.9
31.1
71.4
1.7
3.3
5.0
3.4
1.5
1.0
0.4
3.1
6.8
Trendon Watford
53
18.4
55.6
42.9
71.2
0.7
3.0
3.8
2.0
1.1
0.5
0.1
1.9
6.2
Nassir Little
48
17.3
45.9
39.7
67.6
0.5
2.2
2.6
1.0
0.5
0.3
0.4
1.1
6.2
Drew Eubanks
68
19.6
68.4
42.9
66.0
1.6
3.5
5.1
1.2
0.8
0.5
1.1
2.2
6.0
Gary Payton II
15
17.0
58.5
52.9
100.0
0.7
1.9
2.6
1.5
0.8
1.1
0.1
1.9
4.1
Keon Johnson
37
9.1
35.9
33.3
60.7
0.2
0.8
1.0
1.1
0.9
0.4
0.2
1.0
3.9
Ryan Arcidiacono
5
12.2
41.7
57.1
0.0
0.0
1.4
1.4
1.4
0.6
0.2
0.0
1.6
2.8
Jabari Walker
46
8.7
43.0
24.1
74.2
0.8
1.2
2.0
0.5
0.4
0.1
0.2
0.9
2.7
Kevin Knox
10
5.5
56.3
37.5
100.0
0.3
0.9
1.2
0.2
0.0
0.2
0.0
0.7
2.3
Greg Brown III
16
5.8
39.3
14.3
41.7
0.1
1.1
1.2
0.2
0.4
0.3
0.3
0.8
1.8
John Butler
9
3.4
20.0
0.0
0.0
0.1
0.1
0.2
0.1
0.0
0.1
0.3
0.2
0.2