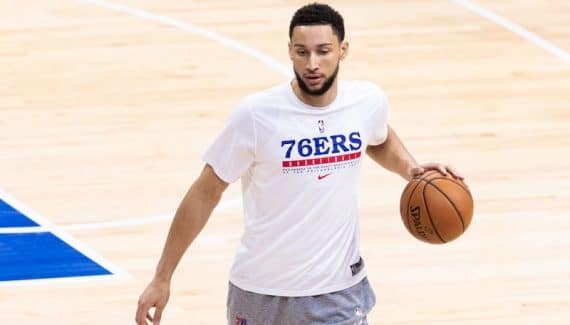 " Yo Rich Paul! Get Ben Simmons out of Philadelphia! This is what Ben Simmons' agent, present at the Wells Fargo Center for the arrival of the Hornets, heard from a Sixers fan. Unfortunately for the latter, and all the actors in this soap opera, this is not taking the path for the moment.
Adrian Wojnarowski reports that a meeting has just taken place, in a restaurant in Philly, between the agent and the leaders of the Sixers, Daryl Morey and Elton Brand. A meeting which did not make it possible to break out of the current impasse. The player, who nevertheless continues to frequent the facilities of the 76ers, is still not in favor of finding the floors while his franchise does not wish to sell him off in a transfer.
The president of the 76ers would have repeated in particular that there was no question of exchanging the Australian without recovering a counterpart likely to allow the team to aim for the title. For his part, the agent would have recalled that " mental health issues from his client still prevent him from coming back to play.
A player from the top 25 in exchange
According to the ESPN reporter, the 76ers are looking to get a player from the " Top 25 " of the league but this type of profile would not have yet been put on the table among the potential offers. Despite that, the Pennsylvania franchise would remain greedy, as the February 10 transfer deadline draws closer.
Doc Rivers, is thus aware that this period should give rise to " crazy rumors. I can't do anything about it, but there may be more than usual. And if so, we'll have to deal with it. I guess that's part of my job. »
One thing is certain, he will stay in touch with his leaders: " We constantly talk about building the team. We will not accept any exchange. We observe the team, how it works, and what corresponds to the style that I want to play with this group. »
For his part, Tobias Harris, likely to make the trip with his teammate in the event of a transfer, prefers not to add to it. " It already took too much of my energy yesterday and I moved on. This is my 11th year in the NBA, not the first time I've been rumored and it probably won't be the last. So that's it ", Ends the winger of the Sixers, author of 17 points this night.