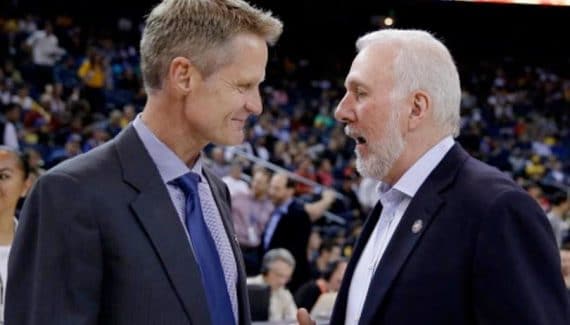 For its 75 years, and with the help of a panel composed of 43 coaches of yesterday and today, the NBA has revealed its list of the 15 best coaches in history, a few months after having unveiled its list of the 76 best players in history.
In this Top 15, we find without surprise Phil Jackson (11 titles) and Red Auerbach (9 titles), the most successful of all, considered by many to be two of the three best coaches of all time. In the company of Gregg Popovich (5 titles), also honored and who could reinforce his candidacy of "GOAT" of coaching with the record of victories of a technician, in the regular season.
A record that the brain of the Spurs (1,330 victories) should steal soon from Don Nelson (1,335 victories), certainly without a ring but still present in this honorary list. This is also the case of jerry sloan.
As for the coaches still in activity, in addition to Gregg Popovich, they are Steve Kerr (3 titles), Erik Spoelstra (2 titles) and Doc Rivers (1 title) who were also honoured. The current Miami strongman also accompanies his president, Pat Riley (5 titles).
The NBA also included the names of two iconic Pistons coaches, Chuck Daly (2 titles) and Larry Brown (1 title), while the no less famous Red Holzman (2 titles), KC Jones (2 titles), Jack Ramsay (1 title) and Lenny Wilkens (1 title) complete this prestigious line-up.
Among the forgotten, we can mention the names of Bill Fitch, Rudy Tomjanovich and John Kundla, even Alex Hannum, Tom Heinsohn, Rick Carlisle, Larry Costello, Dick Motta, Mike Budenholzer, Rick Adelman, Bill Sharman, Billy Cunningham, George Karl , Al Attles, Mike D'Antoni or even Tom Thibodeau.
Note, finally, that a Top 10 of the best coaches had already been announced for the 50th anniversary of the league, in 1996/97, and it was composed of: Red Auerbach, Phil Jackson, Don Nelson, Bill Fitch, John Kundla, Chuck Daly, Jack Ramsay, Lenny Wilkens, Red Holzman and Pat Riley. And, 25 years later, we only find eight of these ten names.
The NBA today unveiled the 15 Greatest Coaches in NBA History as part of the continuing celebration of the league's 75th Anniversary Season. The list was selected by a panel of 43 current & former NBA head coaches in collaboration with the National Basketball Coaches Association. pic.twitter.com/TDBxFqPma5

— NBA Communications (@NBAPR) February 9, 2022