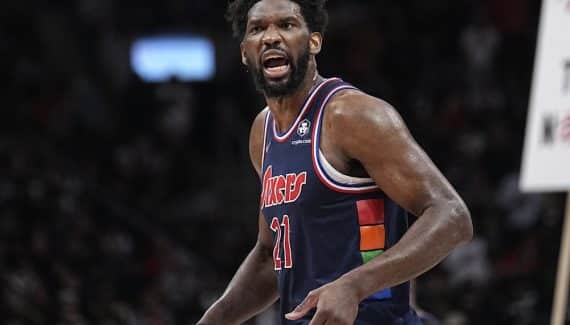 As one might fear, the French team is not the only nation to want Joel Embiid in its workforce. Mark Stein reports that Team USA management on " actively covets too, and the Sixers center is determined to compete internationally.
Nothing prevents Joel Embiid from playing under the colors of the United States, and he would not be the first African to wear the American jersey. In 1996, Nigerian Hakeem Olajuwon, an American citizen, won gold at the Olympic Games in Atlanta.
For Joel Embiid, the Cameroonian selection is not relevant, and the United States would like to integrate him for the 2024 Olympic Games. On the side of France, we think of him for the Paris Olympics of course, but also for the 2023 World Cup, even if the Blues have not yet validated their ticket.
On the French side, Boris Diaw is in charge of the file, and Thursday evening, Vincent Collet confirmed that there were regular discussions with the player. "Now he has both nationalities and he has to choose to play for a national team, it's not the same. So it's a choice. No one can change that. I know he also met with some of our players to discuss it. I think he should play with us, but we'll see. We will respect his decision, whatever it is.
We do not know who will be the emissary of the Americans to approach Joel Embiid but the appointment of Grant Hill as manager and Steve Kerr as coach could weigh in the balance.