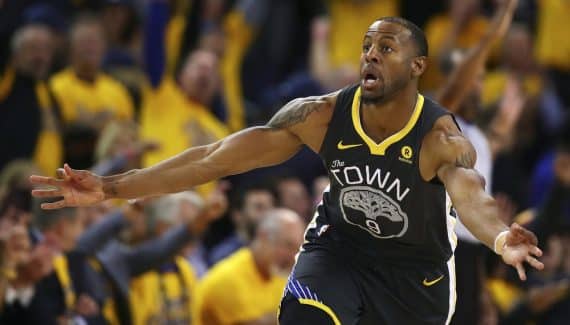 While discussing his future with Evan Turner for the "Point Forward" podcast, Andre Iguodala admitted that his decision was not made. Will the MVP of the 2015 Finals continue his career or not, at the age of 38?
The regular season begins in less than six weeks and the Warriors are still waiting for his response, since they have specially left a place in their workforce for the veteran.
"We will contact him in the next few days"announces Steve Kerr for 95.7 The Game. "Bob Myers (the GM) and myself, we spoke with Iguodala at the beginning of the summer and we told him that he had deserved to do what he wanted, and to take the time he wanted. We gave him the space to make his decision and we will support him whatever he decides. But I can say that we hope he will come back. "
The coach of the defending champions would still like to count one more season on the experience of the former Sixers and Nuggets player. And he knows he can still be valuable on the pitch.
"He has proven that he is an irreplaceable leader in this dressing room"continues Steve Kerr. "There will be times in the season when he will be healthy and help us win games. At other times, he won't play but will still have an impact in the dressing room. "
It is above all the first scenario, that of being on the court, which is envisaged for Andre Iguodala. Two months ago, he had indeed explained that he did not want to be locked into a role of coach / player.
Andre Iguodala
Percentage
Bounces
Season
Crew
GM
Minimum
Shots
3 points
LF
Off
Def
Early
pd
party
Int
bp
CT
Points
2004-05
PHL
82
33
49.3
33.1
74.3
1.1
4.6
5.7
3.0
2.5
1.7
1.7
0.6
9.0
2005-06
PHL
82
38
50.0
35.4
75.4
1.4
4.4
5.9
3.1
2.4
1.7
1.9
0.3
12.3
2006-07
PHL
76
40
44.7
31.0
82.0
1.0
4.7
5.7
5.7
2.6
2.0
3.4
0.4
18.2
2007-08
PHL
82
40
45.6
32.9
72.1
1.0
4.4
5.4
4.8
2.3
2.1
2.6
0.6
19.9
2008-09
PHL
82
40
47.3
30.7
72.4
1.1
4.6
5.7
5.3
1.9
1.6
2.7
0.4
18.8
2009-10
PHL
82
39
44.3
31.0
73.3
1.0
5.5
6.5
5.8
1.8
1.7
2.7
0.7
17.1
2010-11
PHL
67
37
44.5
33.7
69.3
0.9
4.9
5.8
6.3
1.6
1.5
2.1
0.6
14.1
2011-12
PHL
62
36
45.4
39.4
61.7
0.9
5.2
6.2
5.5
1.5
1.7
1.9
0.5
12.4
2012-13
DEN
80
35
45.1
31.7
57.4
1.0
4.3
5.3
5.4
1.6
1.7
2.6
0.7
13.0
2013-14
GOS
63
32
48.0
35.4
65.2
0.8
3.8
4.7
4.2
1.6
1.5
1.6
0.3
9.3
2014-15
GOS
77
27
46.6
34.9
59.6
0.6
2.8
3.3
3.0
1.3
1.2
1.1
0.3
7.8
2015-16
GOS
65
27
47.8
35.1
61.4
0.8
3.3
4.1
3.4
1.6
1.1
1.2
0.3
7.0
2016-17
GOS
76
26
52.8
36.2
70.6
0.7
3.3
4.0
3.4
1.3
1.0
0.8
0.5
7.6
2017-18
GOS
64
25
46.3
28.2
63.2
0.8
3.1
3.8
3.3
1.6
0.8
1.1
0.6
6.0
2018-19
GOS
68
23
50.0
33.3
58.2
0.7
3.0
3.7
3.2
1.4
0.9
0.8
0.8
5.7
2019-20
MIA
21
20
43.2
29.8
40.0
0.8
2.9
3.7
2.4
1.7
0.7
1.2
1.0
4.6
2020-21
MIA
63
21
38.3
33.0
65.8
0.6
2.9
3.5
2.3
1.4
0.9
1.1
0.6
4.4
2021-22
GOS
31
19
38.0
23.0
75.0
0.7
2.6
3.2
3.7
1.1
0.9
0.9
0.7
4.0
Total
1223
32
46.3
33.0
70.9
0.9
4.0
4.9
4.2
1.8
1.4
1.8
0.5
11.4