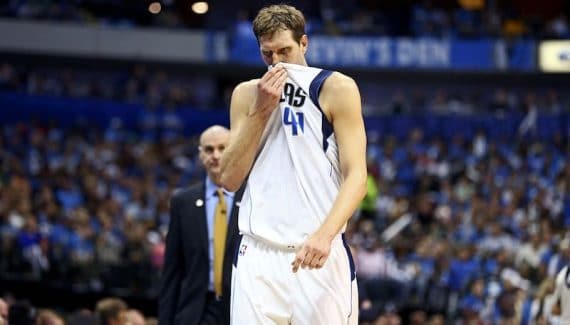 Podcast guest "Einfach mal Luppen" by the Kroos brothersDirk Nowitzki spoke about his career and his current retirement, recently marked by the retirement with great fanfare of his #41 jersey in Dallas.
The legend of the Mavericks has also confided that it is the title that has linked him to the Texas franchise forever. "If we hadn't won the championship in 2011, I might have considered joining other teams towards the end of my career. Luckily, it didn't come to that." he thus declared.
But at 43, Dirk Nowitzki especially seems to regret his last two NBA campaigns. Very impaired by his left ankle, he may have mortgaged his long-term health by playing for so long.
"Should we have played the last two years? " he wonders. "Maybe my foot would be better now, that I could play soccer with the kids, but I can't. "
Dirk Nowitzki still lives in Dallas with his wife Jessica and their three children, but after more than 21 years of high-level sport, and recurring problems with his left ankle, which has been operated on, he explains that he can hardly no longer play sports, apart from a little tennis, in doubles.
"Standing behind the baseline and sending a few balls is already nice"continued Dirk Nowitzki. "But unfortunately I can't move much anymore."
His ankle thus seems to bother him enormously on a daily basis. What necessarily regret these last two seasons, especially since they had no real sporting interest, the Mavs having not even reached the playoffs.
"My foot is really bad, there are already days when I don't move well at all. I wonder if the last two years were really worth it. We've achieved absolutely nothing as a team, and that's what's been on my mind. But it is very difficult to know when to end your career. "