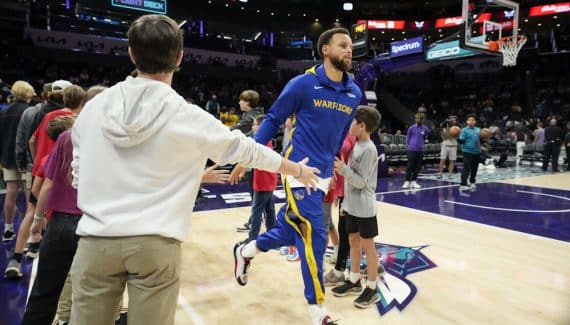 the Charlotte Observe devotes a series to North Carolina sports legends, and there are Stephen Curry ! The Warriors point guard was not born in the state, and did not wear the jersey of the Hornets or the Bobcats, but on the other hand, he made a name for himself on the side of Davidson, a small college in Carolina North. As his dad, Dell, is a legend of the franchise and he always comments on the games, many dream of seeing him one day in the jersey of the Hornets.
Several times, the quadruple NBA champion has left the door open, but as he is under contract until 2026, the chances of seeing him play in front of his relatives are dwindling… Here is his answer to the following question: " Have you ever dreamed of returning to Charlotte at 38 or 39 to play a few more years? »
" I love the course with the Warriors, and there was never any real interest in playing for another team. But the curiosity to know what it would be like to play for your city, what it would be like to live in Charlotte, to settle there and all that? We think about it, that's for sure"Replied the Warriors point guard.
But Curry, like a Dirk Nowitzki, a Tim Duncan or a Kobe Bryant, would also like to be the man of a single franchise. It's become so rare…
" If I can play for the Warriors my entire career and be one of those players who have had a lot of success – individually and collectively with one team… This list is pretty short" he recalls. "But like I said, there's also this curiosity that makes me say, 'What would it be like to wear number 30 in Charlotte like my dad?'".
Stephen Curry
Percentage
Bounces
Season
Crew
GM
Minimum
Shots
3 points
LF
Off
Def
Early
pd
party
Int
bp
CT
Points
2009-10
GOS
80
36
46.2
43.7
88.5
0.6
3.9
4.5
5.9
3.2
1.9
3.0
0.2
17.5
2010-11
GOS
74
34
48.0
44.2
93.4
0.7
3.2
3.9
5.8
3.2
1.5
3.1
0.3
18.6
2011-12
GOS
26
28
49.0
45.5
80.9
0.6
2.8
3.4
5.3
2.4
1.5
2.5
0.3
14.7
2012-13
GOS
78
38
45.1
45.3
90.0
0.8
3.3
4.0
6.9
2.5
1.6
3.1
0.2
22.9
2013-14
GOS
78
37
47.1
42.4
88.5
0.6
3.7
4.3
8.5
2.5
1.6
3.8
0.2
24.0
2014-15

★

GOS
80
33
48.7
44.3
91.4
0.7
3.6
4.3
7.7
2.0
2.0
3.1
0.2
23.8
2015-16

★

GOS
79
34
50.4
45.4
90.8
0.9
4.6
5.4
6.7
2.0
2.1
3.3
0.2
30.1
2016-17
GOS
79
33
46.8
41.1
89.8
0.8
3.7
4.5
6.6
2.3
1.8
3.0
0.2
25.3
2017-18
GOS
51
32
49.5
42.3
92.1
0.7
4.4
5.1
6.1
2.2
1.6
3.0
0.2
26.4
2018-19
GOS
69
34
47.2
43.7
91.6
0.7
4.7
5.4
5.2
2.4
1.3
2.8
0.4
27.3
2019-20
GOS
5
28
40.2
24.5
100.0
0.8
4.4
5.2
6.6
2.2
1.0
3.2
0.4
20.8
2020-21
GOS
63
34
48.2
42.1
91.6
0.5
5.0
5.5
5.8
1.9
1.2
3.4
0.1
32.0
2021-22
GOS
64
35
43.7
38.0
92.3
0.5
4.7
5.2
6.3
2.0
1.3
3.2
0.4
25.5
2022-23
GOS
17
35
52.4
44.4
90.3
0.6
6.1
6.7
7.2
1.9
1.1
2.5
0.2
31.7
Total
843
34
47.5
42.8
90.8
0.7
4.0
4.7
6.5
2.4
1.6
3.1
0.2
24.4