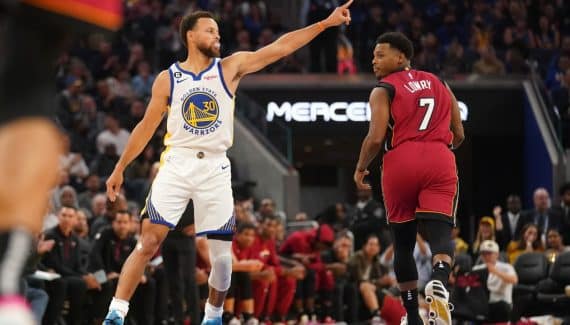 He is much less talked about than Luka Doncic, Giannis Antetokounmpo or even LeBron James and Ja Morant, but Stephen Curry remains one of the best players in the world. The MVP of the 2022 Finals proved it again last night by taking the game on his own in the 4th quarter against the Heat. When he comes back into play, seven minutes from the end, the Warriors are led by four points. Seven minutes later, they won by 13 points!
We will remember his heat stroke with 10 points in three minutes to knock out the Heat two minutes from the end, with in particular this great number in front of Tyler Herro. A basket that set fire to the room and the bench.
"It was a great move" confirms Draymond Green. "He got to where he wanted. Once he got Tyler to open his back leg, it was dead for him. Steph is incredible, he is playing very well at the start of the season, and it was expected. He keeps getting better, and that's the scary thing: this guy keeps getting better. It's actually quite interesting and fun to watch. »
"Stephen Curry is just sublime"
Asked about this "move", Curry explains that he worked on it during the summer, and that it is part of his arsenal. The rest is game reading and defense.
"Steph is just sublime" summarizes Steve Kerr. "What he is doing is incredible. He gets rid of everyone. It doesn't matter who's on him, he goes right through the jaws of defense to go after or find guys. It is spectacular at the start of the year. »
Spectacular and above all effective! That night, he finished with 33 points, 9 assists and 7 rebounds. All at 13 of 22 on shots with a 7 of 14 from 3-pointers. Since the start of the season, he has averaged nearly 31 points, and we hardly talk about him.
Stephen Curry
Percentage
Bounces
Season
Crew
GM
Minimum
Shots
3 points
LF
Off
Def
Early
pd
party
Int
bp
CT
Points
2009-10
GOS
80
36
46.2
43.7
88.5
0.6
3.9
4.5
5.9
3.2
1.9
3.0
0.2
17.5
2010-11
GOS
74
34
48.0
44.2
93.4
0.7
3.2
3.9
5.8
3.2
1.5
3.1
0.3
18.6
2011-12
GOS
26
28
49.0
45.5
80.9
0.6
2.8
3.4
5.3
2.4
1.5
2.5
0.3
14.7
2012-13
GOS
78
38
45.1
45.3
90.0
0.8
3.3
4.0
6.9
2.5
1.6
3.1
0.2
22.9
2013-14
GOS
78
37
47.1
42.4
88.5
0.6
3.7
4.3
8.5
2.5
1.6
3.8
0.2
24.0
2014-15

★

GOS
80
33
48.7
44.3
91.4
0.7
3.6
4.3
7.7
2.0
2.0
3.1
0.2
23.8
2015-16

★

GOS
79
34
50.4
45.4
90.8
0.9
4.6
5.4
6.7
2.0
2.1
3.3
0.2
30.1
2016-17
GOS
79
33
46.8
41.1
89.8
0.8
3.7
4.5
6.6
2.3
1.8
3.0
0.2
25.3
2017-18
GOS
51
32
49.5
42.3
92.1
0.7
4.4
5.1
6.1
2.2
1.6
3.0
0.2
26.4
2018-19
GOS
69
34
47.2
43.7
91.6
0.7
4.7
5.4
5.2
2.4
1.3
2.8
0.4
27.3
2019-20
GOS
5
28
40.2
24.5
100.0
0.8
4.4
5.2
6.6
2.2
1.0
3.2
0.4
20.8
2020-21
GOS
63
34
48.2
42.1
91.6
0.5
5.0
5.5
5.8
1.9
1.2
3.4
0.1
32.0
2021-22
GOS
64
35
43.7
38.0
92.3
0.5
4.7
5.2
6.3
2.0
1.3
3.2
0.4
25.5
2022-23
GOS
4
33
45.8
44.4
92.6
0.5
5.3
5.8
5.3
1.8
1.5
2.5
0.3
30.3
Total
830
34
47.3
42.8
90.8
0.7
4.0
4.7
6.5
2.4
1.7
3.1
0.2
24.3