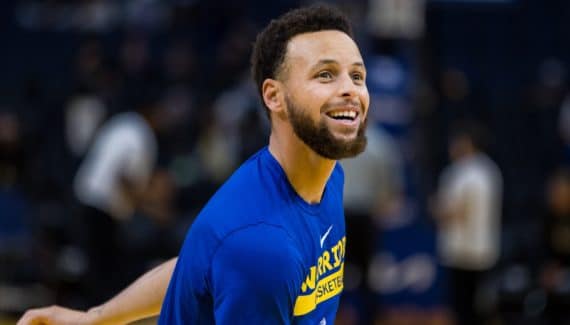 Warriors fans can take a breather: Even though he's approaching his 35th birthday (he'll celebrate in March), Stephen Curry has absolutely no plans to put away his sneakers for the moment. In any case, this is what he said this week, on the sidelines of the Sports Illustrated ceremony, during which he won the trophy for "Sportsman of the Year" 2022.
It must be said that, despite his age, the Golden State point guard continues to display a sparkling sporting form this season: almost 30 points, 7 rebounds and 7 assists on average, 50% on shots, 43% at 3-pts and 91% in free throws! He has indeed perhaps never been as strong on an individual level as he is right now.
A longevity that is both impressive and rare which, if he continues his momentum, will be reminiscent of that of a certain LeBron James in the NBA, or even a Tom Brady in the NCAA, if he decides to push further. beyond forty while maintaining a high level of play.
That's good, Stephen Curry has just raised this subject with the legend of American football…
" I spoke to Tom Brady, about where he is at this point in his career, where he's still playing at a high level at 44, and his advice was just to take the years one by one. »
>Then Stephen Curry to detail what this same Tom Brady said to him, during their discussion: There's no way to skip steps, fast forward [pour anticiper, ndlr]. That's how you got here, so don't rush to guess how long you can play. Your body will tell you. But I don't see myself slowing down anytime soon. »
Given his style of play and the way he takes care of his body, the two-time regular season MVP (2015 and 2016) is probably right to be confident in his ability to continue his career as long as possible. , because he seems to have several more years to offer at the highest level.
Stephen Curry
Percentage
Bounces
Season
Crew
GM
Minimum
Shots
3 points
LF
Off
Def
Early
pd
party
Int
bp
CT
Points
2009-10
GOS
80
36
46.2
43.7
88.5
0.6
3.9
4.5
5.9
3.2
1.9
3.0
0.2
17.5
2010-11
GOS
74
34
48.0
44.2
93.4
0.7
3.2
3.9
5.8
3.2
1.5
3.1
0.3
18.6
2011-12
GOS
26
28
49.0
45.5
80.9
0.6
2.8
3.4
5.3
2.4
1.5
2.5
0.3
14.7
2012-13
GOS
78
38
45.1
45.3
90.0
0.8
3.3
4.0
6.9
2.5
1.6
3.1
0.2
22.9
2013-14
GOS
78
37
47.1
42.4
88.5
0.6
3.7
4.3
8.5
2.5
1.6
3.8
0.2
24.0
2014-15

★

GOS
80
33
48.7
44.3
91.4
0.7
3.6
4.3
7.7
2.0
2.0
3.1
0.2
23.8
2015-16

★

GOS
79
34
50.4
45.4
90.8
0.9
4.6
5.4
6.7
2.0
2.1
3.3
0.2
30.1
2016-17
GOS
79
33
46.8
41.1
89.8
0.8
3.7
4.5
6.6
2.3
1.8
3.0
0.2
25.3
2017-18
GOS
51
32
49.5
42.3
92.1
0.7
4.4
5.1
6.1
2.2
1.6
3.0
0.2
26.4
2018-19
GOS
69
34
47.2
43.7
91.6
0.7
4.7
5.4
5.2
2.4
1.3
2.8
0.4
27.3
2019-20
GOS
5
28
40.2
24.5
100.0
0.8
4.4
5.2
6.6
2.2
1.0
3.2
0.4
20.8
2020-21
GOS
63
34
48.2
42.1
91.6
0.5
5.0
5.5
5.8
1.9
1.2
3.4
0.1
32.0
2021-22
GOS
64
35
43.7
38.0
92.3
0.5
4.7
5.2
6.3
2.0
1.3
3.2
0.4
25.5
2022-23
GOS
23
35
49.9
43.2
90.6
0.5
6.1
6.6
7.0
2.1
1.0
3.1
0.3
30.0
Total
849
34
47.4
42.8
90.8
0.7
4.0
4.7
6.5
2.4
1.6
3.1
0.2
24.4