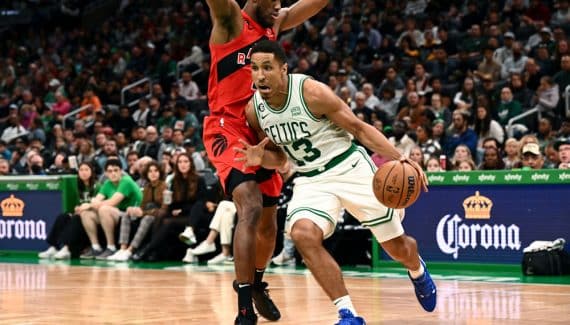 "Pick your poison!" This expression widely used in the NBA will apply a little more this season to the Celtics. Behind the famous "Jay's" (Tatum and Brown), Malcolm Brogdonthe main rookie of the offseason, will embody one of these poisons, on which Boston can rely.
For the former leading scorer for the Pacers, the preseason is the perfect moment to adjust to this new costume, that of a player less exposed and less empowered than in Indiana, but who will have to shine in efficiency and the side "killer". A role similar to the one he had at the Bucks, of which he is relearning the specifics.
"I am more and more comfortable. It's a day-to-day job and I'll get more comfortable as the season progresses.", he confided. "It's a new adjustment, of course, but I'm getting used to it. I took on a lot of the responsibilities in Indiana, and enjoyed doing it. But it's a new role, a new team, a new level of team to be honest, fighting for a title. So we are going to have more players who will have the ball in their hands, more talented and stronger guys. And I like to play with them, it helps me".
Still a little time to adjust the sights
If he wants to be a "stabilizing presence", in particular by organizing the substitutes, Malcolm Brogdon will also have to punish the defenses without the ball, taking advantage of the attention generated by Jayson Tatum or Jaylen Brown.
For the time being, he is still trying to adjust the sights, he who has compiled a small 2/9 at 3-pointers since the start of the preseason. A period that is also used for that, and for him, it is therefore a question of punishing with less ammunition. It's not easy when we used to take 15 to 20 shots per game, and we fall back to less than 10.
"It can be better, it can always be better. I feel like right now I haven't put the open shots that I usually put. But it's all down to the pace, the new team. In any case, it is these kinds of shots that you will see me putting, while continuing to find open players and play my game, " he added. "A lot of times when you come to a new team, which I've done before, you tend to think too much. For me, I just have to keep playing simple, and then it will get better.
Malcolm Brogdon
Percentage
Bounces
Season
Crew
GM
Minimum
Shots
3 points
LF
Off
Def
Early
pd
party
Int
bp
CT
Points
2016-17
MIL
75
26
45.7
40.4
86.5
0.6
2.2
2.8
4.2
1.9
1.1
1.5
0.2
10.2
2017-18
MIL
48
30
48.5
38.5
88.2
0.5
2.8
3.3
3.2
2.7
0.9
1.4
0.3
13.0
2018-19
MIL
64
29
50.5
42.6
92.8
1.0
3.5
4.5
3.2
1.6
0.7
1.4
0.2
15.6
2019-20
IND
54
31
43.8
32.6
89.2
0.9
4.0
4.9
7.1
1.8
0.7
2.4
0.2
16.5
2020-21
IND
56
35
45.3
38.8
86.4
1.0
4.2
5.3
5.9
2.0
0.9
2.1
0.3
21.2
2021-22
IND
36
34
44.8
31.2
85.6
0.9
4.2
5.1
5.9
2.0
0.8
2.1
0.4
19.1
Total
333
30
46.4
37.6
88.1
0.8
3.4
4.2
4.8
2.0
0.9
1.8
0.2
15.5