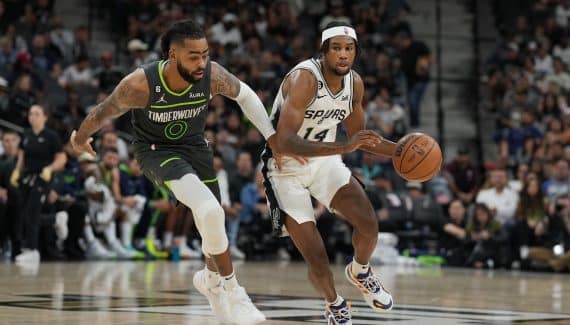 After several matches on the bench, Blake Wesley was well launched. The San Antonio guard had celebrated his career first with 10 points against the Bulls. Then against Minnesota, the rookie had already scored 6 points in eight minutes.
But a left knee injury slowed him down. In the second quarter, the Spurs player touched Jaden McDaniels' knee with his. He certainly managed to shoot his two free throws after this foul, but the pain was too great to continue.
After the match, Gregg Popovich was hoping for a simple bone contusion but the MRI showed that his 19-year-old talent ultimately suffered from a torn medial collateral ligament. He will therefore be sidelined for six to eight weeks.
It is therefore one less rotation for the Texan coach at the end of 2022, in addition to the recent departure of Joshua Primo, while San Antonio is making an excellent start to the year with 5 wins in 7 matches.
Blake Wesley
Percentage
Bounces
Season
Crew
GM
Minimum
Shots
3 points
LF
Off
Def
Early
pd
party
Int
bp
CT
Points
2022-23
SAN
2
12
66.7
66.7
50.0
0.5
0.5
1.0
2.0
1.5
0.0
1.0
0.0
8.0
Total
2
12
66.7
66.7
50.0
0.5
0.5
1.0
2.0
1.5
0.0
1.0
0.0
8.0