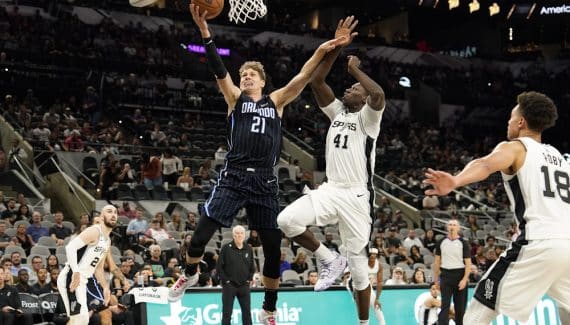 As is often the case in pre-season, a match lasts three quarters, and then the coaches generally make the guests of the training camp jog. Confirmation last night in this opposition between the Spurs and the Magic.
Gregg Popovich's players quickly took a 19-point lead, and they still led by ten points in the 4th quarter thanks to Doug McDermott (14 points) and Tre Jones (11 points at 100% on shots) .
And then, Gregg Popovich was already satisfied with what he had seen, especially after the spanking in the first game against Houston, and he recalled the players from his rotation. The Magic of Wendell Carter Jr (20 points, 10 rebounds) took the opportunity to carry out the hold-up, and it was Moe Wagner who made the difference in the home stretch.
On the San Antonio side, Keita Bates-Diop scored points with his 3-point address. Ditto for Tre Jones with his pace, selflessness and shot selection. In Orlando, Jamahl Mosley had decided to innovate with Jalen Suggs placed as playmaker, while Cole Anthony started on the bench. The rookie Paolo Banchero was correct with a lot of activity. In the end, it was Carter Jr and the Wagner brothers who were the most interesting.
San Antonio

/

99
Shots
Bounces
Players
Minimum
Shots
3 points
LF
O
D
T
pd
party
Int
bp
CT
+/-
Points
Rating
K. Bates-Diop
18
4/5
4/4
0/0
1
1
2
1
+7
12
15
J. Poeltl
19
0/4
0/0
0/0
1
5
6
3
3
3
+2
2
T.Jones
21
4/4
1/1
2/2
5
5
4
2
1
1
-4
11
20
J.Richardson
18
3/6
2/4
1/1
3
3
3
4
2
1
-4
9
11
D.Vassell
25
4/11
1/6
2/2
1
1
5
1
2
-4
11
8
I. Roby
15
1/3
1/2
1/2
3
3
6
2
1
1
3
+8
4
7
Z.Collins
17
2/6
0/0
5/7
5
5
1
2
1
+5
9
10
A. Johnson
4
1/2
0/0
0/1
2
2
1
-7
2
2
J.Sochan
22
1/6
1/3
2/4
4
4
1
1
-2
5
3
D.McDermott
19
6/10
1/3
1/1
1
1
2
4
3
+7
14
10
G. Dieng
9
1/1
1/1
0/0
1
2
3
2
1
1
2
1
-3
3
8
R.Langford
8
0/1
0/0
0/0
1
1
-7
-1
T. Kuhse
7
2/4
0/2
0/0
1
2
1
1
-12
4
3
Mr Branham
17
3/6
1/3
0/0
1
1
2
1
2
-2
7
4
B.Wesley
17
2/6
0/1
4/6
4
4
2
2
1
+8
8
7
J.Hall
3
0/1
0/1
0/0
1
1
-7
-1
34/76
13/31
18/26
5
37
42
29
26
7
21
3
99
109
Orlando

/

102
Shots
Bounces
Players
Minimum
Shots
3 points
LF
O
D
T
pd
party
Int
bp
CT
+/-
Points
Rating
P. Banchero
22
3/8
0/1
3/3
1
4
5
3
4
3
1
+4
9
14
F.Wagner
22
4/8
1/4
3/3
2
2
3
2
1
2
+6
12
12
W.Carter Jr.
22
8/13
1/3
3/4
1
9
10
3
3
1
2
+4
20
28
T.Ross
22
2/4
1/3
0/0
1
1
3
+6
5
4
J.Suggs
19
2/5
2/3
0/2
1
1
3
1
1
3
+3
6
3
C.Okeke
18
2/5
1/4
2/2
2
3
5
2
1
2
-15
7
13
A.Ford
8
0/1
0/1
2/2
2
2
+12
2
3
C. Houstan
8
0/1
0/1
2/2
2
2
2
+12
2
3
Mr. Wagner
12
4/7
1/3
1/2
1
1
2
1
+17
10
9
Mr Bamba
18
4/7
1/4
0/0
3
3
5
3
3
-13
9
9
B.Bowl
14
0/2
0/1
0/0
1
2
3
2
2
2
1
-18
2
C.Anthony
24
1/11
0/7
4/5
1
2
2
3
-7
6
-5
RJ Hampton
21
4/7
0/1
0/0
2
5
7
3
2
3
-10
8
18
D. Cannady
4
1/1
1/1
1/2
1
1
+7
4
3
K.Harris
4
1/1
0/0
0/0
1
+7
2
1
36/81
9/37
21/27
8
35
43
21
27
12
17
7
102
117