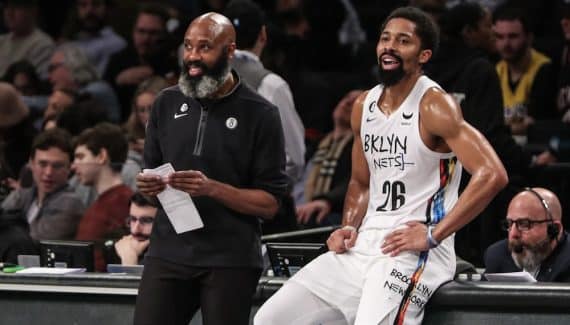 The Nets' season is a fine example of a roller coaster, with star tantrums and slip-ups, injuries, the dismissal of a coach, and finally a sweep in the first round of the playoffs.
But all is not so gloomy since the management has maneuvered rather well with the arrivals of Mikal Bridges, Dorian Finney-Smith and Cam Johnson, and the unexpected return of Spencer Dinwiddie. The leaders have even already extended Jacque Vaughn, and for the leaderoptimism is in order for the future.
" I am very enthusiastic " he said at the microphone of the Gilbert Arenas podcast. "Basically, I've played six of my nine seasons for the Nets. I've been through different eras, from when we were fledglings with D'Angelo Russell and others. Then we had the star players with KD and Kyrie and now we are more mature. We have a winning core that probably still needs a big player. But, we are in this range there ".
Young people accustomed to winning
After the departures of Kyrie Irving and Kevin Durant, Brooklyn begins a new chapter in its history, and Spencer Dinwiddie believes that the current squad is made up of players with a good mentality, and that is essential.
"The easiest part of it all is that it's a bunch of good guys coming from winning teams" adds Spencer Dinwiddie. "The Nets were already used to winning. The Suns were obviously winning at a high level with Mikal Bridges and Cam Johnson and the Dallas guys, me and Dorian Finney-Smith, used to win too and play at a high level. They are good players, who do not take the lead and who have a clear vision of what they want to do..
Spencer Dinwiddie also assures that Ben Simmons is one of those "good guys", the Australian being able to take the team to another dimension if he finds his form.
"Philadelphia's Ben – the one I played against – he's an elite athlete, a 2m08 guy who can defend in all positions. He can do things that only Giannis can do, to some degree…without the wingspan. If he's fit, he's an All-Star. But if he isn't… Wounds are wounds".
Shots
Bounces
Players
GM
Minimum
Shots
3 points
LF
Off
Def
Early
pd
bp
Int
CT
party
Points
Kevin Durant
39
36.0
55.9
37.6
93.4
0.4
6.4
6.7
5.3
3.5
0.8
1.5
2.4
29.7
Kyrie Irving
40
36.9
48.6
37.4
88.3
1.0
4.2
5.1
5.3
2.3
1.0
0.8
2.7
27.1
Mikal Bridges
27
34.2
47.5
37.6
89.4
0.9
3.6
4.5
2.7
1.8
1.0
0.6
1.6
26.1
Cameron Johnson
25
30.8
46.8
37.2
85.1
0.8
4.0
4.8
2.1
1.1
1.4
0.3
2.2
16.6
Spencer Dinwiddie
26
35.3
40.4
28.9
79.7
0.3
3.8
4.1
9.1
2.1
1.1
0.3
2.4
16.5
Raiquan Gray
1
35.1
50.0
40.0
100.0
3.0
6.0
9.0
7.0
4.0
0.0
1.0
5.0
16.0
Nicholas Claxton
76
29.9
70.5
0.0
54.1
2.4
6.8
9.2
1.9
1.3
0.9
2.5
2.8
12.6
cam thomas
57
16.6
44.1
38.3
86.8
0.1
1.5
1.7
1.4
1.1
0.4
0.1
1.0
10.6
Tj Warren
26
18.9
51.0
33.3
81.8
0.5
2.3
2.8
1.1
0.7
0.6
0.3
1.7
9.5
Seth Curry
61
19.9
46.3
40.5
92.7
0.2
1.4
1.6
1.6
0.8
0.6
0.1
1.6
9.2
Royce O'Neale
76
31.7
38.6
38.9
72.5
0.7
4.3
5.1
3.7
1.5
0.9
0.6
3.1
8.8
Joe Harris
74
20.6
45.7
42.6
64.3
0.3
1.9
2.2
1.4
0.6
0.5
0.2
1.9
7.6
Dorian Finney Smith
26
27.7
35.1
30.6
78.9
1.8
3.1
4.9
1.6
1.0
0.7
0.6
2.5
7.2
Edmond Sumner
53
13.9
46.1
35.6
91.7
0.2
1.2
1.5
1.3
0.9
0.6
0.2
1.6
7.1
Ben Simmons
42
26.3
56.6
0.0
43.9
1.0
5.3
6.3
6.1
2.3
1.3
0.6
3.3
6.9
Patty Mills
40
14.2
41.1
36.6
83.3
0.2
0.9
1.1
1.4
0.8
0.4
0.1
0.8
6.2
Yuta Watanabe
58
16.0
49.1
44.4
72.3
0.5
1.9
2.4
0.8
0.4
0.4
0.3
1.4
5.6
Day'ron Sharpe
48
11.5
54.4
54.5
63.6
2.1
2.1
4.2
0.8
0.9
0.3
0.7
1.9
4.7
David Duke
23
9.9
46.2
8.3
70.6
0.5
0.8
1.3
0.9
0.8
0.4
0.0
1.3
3.7
Markieff Morris
27
10.6
40.2
40.8
100.0
0.5
1.7
2.2
0.9
0.5
0.3
0.2
1.2
3.6
Dru Smith
10
9.1
41.9
30.8
100.0
0.1
1.4
1.5
1.7
0.2
0.6
0.1
1.3
3.3
Kessler Edwards
14
5.7
25.0
16.7
50.0
0.4
0.6
1.0
0.1
0.3
0.2
0.1
0.2
1.1
Nerlens Noel
3
14.4
16.7
0.0
50.0
1.0
2.0
3.0
1.0
1.7
1.0
0.3
2.3
1.0
Moses Brown
2
3.2
0.0
0.0
0.0
0.0
0.0
0.0
0.0
0.5
0.5
0.0
0.5
0.0
Alondes Williams
1
5.3
0.0
0.0
0.0
0.0
1.0
1.0
0.0
2.0
0.0
0.0
1.0
0.0