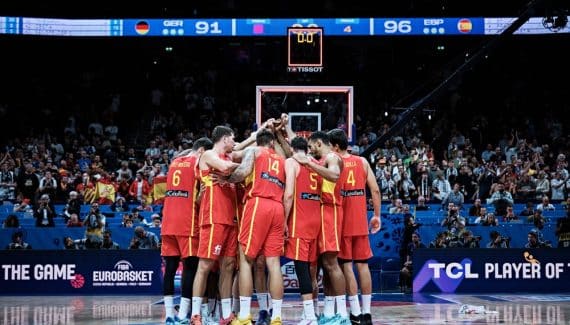 The years pass, the players change, but Spain always knows how to win the important matches. Even if the golden generation of Gasol, Navarro, Llull and company is only represented by Rudy Fernandez, the "Roja" has thus once again demonstrated all its collective mastery by overcoming Germany at home, in Berlin!
Dennis Schröder is already showing his burst of speed but the Spanish strategy allows him to stay in contact, in particular by pressing on the Hernangomez brothers at the slightest physical advantage.
It was even Spain who made the first gap thanks to outside shots from the eternal Rudy Fernandez but Nick Weiler-Babb did a lot of defensive work to disrupt Lorenzo Brown's set-up, Dennis Schröder raised his voice again, helped by Franz Wagner and Germany regain control of the match (51-46) at the break.
The offensive limits of Spain are displayed in the third quarter, and Germany takes up to 10 points in advance (71-61). We then say that the Mannschaft has the hand on the game but Lorenzo Brown, less whimsical or quick than Dennis Schröder, is very effective in keeping the Roja within reach (71-65) ten minutes from the end.
Sergio Scariolo's magic box
As a master strategist, Sergio Scariolo had kept his secret for the end. Alberto Diaz sent to the box on Dennis Schröder, Germany lost their minds over this strategy, and the gap was shrinking.
Lorenzo Brown has adapted to the German defense and is running the Spanish shop, while the Mannschaft have completely lost their attacking rhythm. Dennis Schröder can no longer make a difference while his teammates, like Daniel Theis, miss almost everything. The public at the Mercedes-Benz Arena in Berlin is tense logically while it is Spain which points in the lead at the entrance of the "money time" of the meeting…
Sergio Scariolo's "box and one" continued to break the German rhythm and Gordon Herbet's troupe never managed to catch up. It would have taken a French miracle, but Willy Hernangomez does not tremble on the free throw line, and it is therefore the "Roja" who climbs into the final (96-91).
Sunday evening, France will therefore find its best enemy for the gold medal, from 8:30 p.m. A little earlier, at 5:15 p.m., Germany will play their side of the match for bronze against Poland.
Germany

Shots
Bounces
Players
Minimum
2pts
3 points
LF
Off
Def
Early
pd
party
Int
bp
CT
Points
Maodo Lo
16:51
0/2
3/7
0/0
1
0
1
2
2
0
0
0
9
Niels Giffey
04:40
0/0
0/0
0/0
0
1
1
0
0
0
1
0
0
Nick Weiler – babb
25:30
1/2
0/2
2/2
1
1
2
0
4
2
1
0
4
Johannes Voigtmann
16:34
1/1
0/1
0/0
1
0
1
1
1
1
1
0
2
Franz Wagner
28:34
6/7
1/6
0/0
1
2
3
3
4
0
1
0
15
Daniel Theis
25:13
3/9
1/2
1/2
3
0
3
1
4
0
5
0
10
Dennis Schroder
35:39
8/10
3/7
5/5
0
1
1
8
3
2
2
0
30
Jonas Wohlfarth Bottermann
03:46
0/1
0/0
0/0
2
1
3
0
0
0
1
0
0
Justus Hollatz
Johannes Thiemann
21:22
1/2
0/1
4/4
1
1
2
3
2
3
0
0
6
Andreas Obst
21:51
0/0
5/8
0/0
1
4
5
1
1
1
0
0
15
Christian Sengfelder
Spain

Shots
Bounces
Players
Minimum
2pts
3 points
LF
Off
Def
Early
pd
party
Int
bp
CT
Points
Lorenzo Brown
33:39
8/10
3/7
4/4
0
2
2
6
1
0
4
0
29
Jaime Pradilla
16:51
2/3
0/2
0/0
1
0
1
1
1
1
0
0
4
Rudy Fernandez
23:18
0/1
2/5
0/0
3
3
6
2
0
0
0
0
6
Xabi Lopez-Arostegui
21:46
2/3
1/3
0/0
2
3
5
1
3
0
2
0
7
jaime fernandez
10:25
0/0
0/0
0/0
0
1
1
0
2
0
1
0
0
Dario Brizuela
14:27
1/3
1/2
0/0
1
1
2
0
0
0
2
0
5
Alberto Diaz
16:37
3/3
1/3
1/1
0
2
2
2
5
1
0
0
10
Sebastian Saiz
01:22
1/1
0/0
0/0
0
0
0
0
0
0
0
0
2
Willy Hernangomez
21:59
4/6
1/1
5/5
1
3
4
1
2
2
4
0
16
Usman Garuba
18:01
0/1
0/0
4/4
1
4
5
7
1
0
0
2
4
Juancho Hernangomez
21:35
5/6
1/4
0/0
1
2
3
0
2
0
0
1
13
Joel Parra