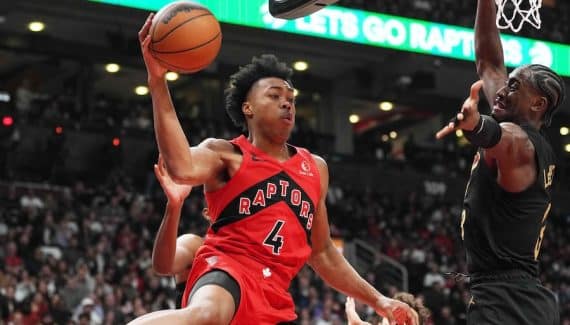 A first 3-point basket after a "stepback", then a second in "catch-and-shoot" and finally a third at the head of the racket. Against the Hawks earlier in the week, Scottie Barnes was able to appreciate his address from afar by planting three award-winning baskets in a row from the first quarter.
The Raptors winger finished this game with 21 points, 8 assists and 7 rebounds, and above all a nice 5/9 behind the 3-point line. This is simply a career best from this distance. This good ratio fueled his very solid start to the season behind the arc: 52% success (11/21 in total). This is currently an increase of 22 points compared to his first year.
" I think it's natural for a lot of guys who work a lot on their shot to show that work on the court. », says Nick Nurse. But the latter warns in the process: " It is always necessary to remember that it is a kind of plus and not to forget about your livelihood. »
"He does not use his size and his physique"
A good way for the Raptors coach to remember that his winger did the most damage last year attacking the circle. " It's always a matter of mechanics, and then the ability to perform that mechanic in-game, and the confidence to pull the trigger. I'm not going to get carried away for a big night of skill, but I think it's the willingness to take those shots that pleases me the most. », Shades Nick Nurse.
The latter, who says he does not know the statistics in question, would like his young nugget to find the right balance between this outside shot and his ease of access to the circle.
" I have a feeling he's not using his size and physicality to punish defenders in the circle. His shot seems better but we need that to pace our attack, whether he scores or clears the ball. »
Scottie Barnes is well aware of his coach's instructions. " Last year I felt like I was pretty good at snowshoeing. Going there, I get some easy shots. I am able to penetrate, to be aggressive, to come out towards the shooters: it opens up so many possibilities for our attack ", Appreciates the 21-year-old player, who now seems to have a new string to his bow to shake up opposing defenses.
Scottie Barnes
Percentage
Bounces
Season
Crew
GM
Minimum
Shots
3 points
LF
Off
Def
Early
pd
party
Int
bp
CT
Points
2021-22
TOR
74
35
49.2
30.1
73.5
2.6
4.9
7.5
3.5
2.6
1.1
1.8
0.7
15.3
2022-23
TOR
5
29
52.7
50.0
80.0
1.4
4.2
5.6
3.6
1.6
1.2
1.8
0.6
14.4
Total
79
35
49.4
31.2
73.8
2.6
4.9
7.4
3.5
2.5
1.1
1.8
0.7
15.3