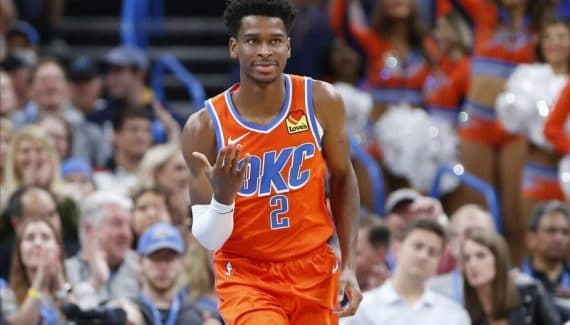 This season is looking more and more like the last for the Oklahoma City side. While the defeats are linked (a single victory in January), Shai Gilgeous-Alexander indeed joined the infirmary for some time.
Touched in the ankle against the Pacers, the leader / back of the Thunder will be absent at least until the All-Star Break, announces ESPN, the fault of a serious sprain therefore. This means that he will miss, at best, the next ten meetings of his club, and that we will not see him again until February 24 next.
The promise of a new freewheeling end to the season for Mark Daigneault's troupe.
Oklahoma City's Shai Gilgeous-Alexander has a right ankle sprain and will be sidelined at least through the All-Star Break, the team says. Thunder say he'll be re-evaluated after the break in mid-February.

— Adrian Wojnarowski (@wojespn) January 29, 2022
Shai Gilgeous-Alexander
Percentage
Bounces
Season
Team
GM
Minimum
Shots
3 points
LF
Off
Def
Early
pd
party
Int
bp
CT
Points
2018-19
LAKE
82
27
47.6
36.7
80.0
0.7
2.1
2.8
3.3
2.1
1.2
1.7
0.6
10.8
2019-20
OKAY
70
35
47.1
34.7
80.7
0.7
5.2
5.9
3.3
1.7
1.1
1.9
0.7
19.0
2020-21
OKAY
35
34
50.8
41.8
80.8
0.5
4.2
4.7
5.9
2.0
0.8
3.0
0.7
23.7
2021-22
OKAY
42
35
42.4
28.2
82.1
0.7
4.1
4.8
5.6
2.4
1.1
2.5
0.8
23.0
Total
229
32
46.7
34.6
81.0
0.7
3.8
4.4
4.1
2.0
1.1
2.1
0.7
17.5