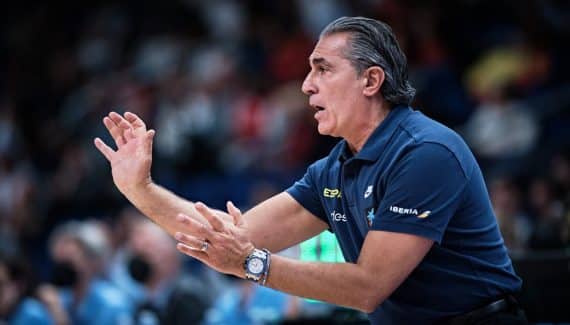 Since this Euro 2022 is so unpredictable, it is difficult to get an idea of ​​​​the final arrival with the four remaining teams. One thing is sure, Sergio Scariolo is already very happy to have reached this stage of the competition with a team that was not favored by the forecasts.
" There is a feeling of satisfaction for what has been done so far, being among the top four teams in such a qualitative and demanding championship. At the same time, we are impatient to continue the competition ", displays the Italian coach, whose comments in Gigantes were picked up by BasketNews.
After success against Lithuania in the eighth, then Finland in the quarter, the next Spanish obstacle will be Germany. A formidable formation led by Dennis Schroder who also presents himself in full confidence, at home, after his resounding victory against Greece.
For Sergio Scariolo, Germany is also " the best team so far, not only because of their striking power but also in their way of playing. They play at home, which is another important factor. It will be a hostile environment which will put a lot of pressure on the players and the referees."
The key to defense
The coach thus expects a new big fight, knowing that to return to the floor " at 80%, it will not be enough ". According to him, the key to the game will be " individual defence. We can't let them drag us into the racket and assert their physical superiority, because we're going to have a very bad time."
It's up to Willy Hernangomez and Usman Garuba in particular to respond to the German soldiers (Johannes Voigtmann, Daniel Theis) while Spain only counter… one shot per game in this Euro (only Bulgaria did worse). The Spaniards will also have to try to slow down the main threat opposite, Dennis Schroder, who shines first with his speed in penetration rather than his outside shot.
The point guard (20 points and 7 assists) leads the league's best offense (93.6 points per game) and is one of five Germans to average 11 points or more. " It's a pity that we don't have Pau (diesel) to score 40 points! ", smiles Rudy Fernandez, decisive against Finland (11 points and 5 interceptions), in reference to the semi-final of Euro 2015, where Spain had brought down France in Lille.
The Spanish captain believes that his formation " deserves this chance because she works with humility. It would be an incredible reward to get a medal. We started with 24 players, almost a football team. Now the team is here and these guys deserve something good."