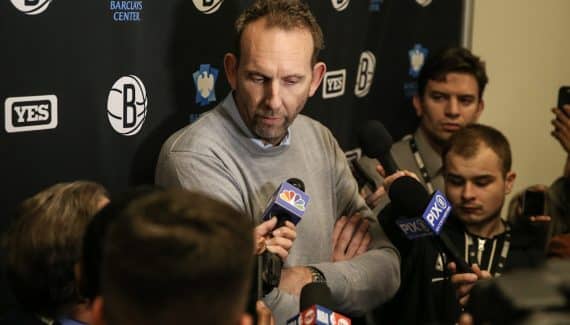 For a year and a half, it's discord at the Nets. However, after the formation of the "Big Three" composed of Kevin Durant, James Harden and Kyrie Irving, the dreams of the NBA title were allowed in Brooklyn. But then, for the fans of the club, the dream quickly turned into a nightmare, with, in bulk, the extra-sporting escapades of Kyrie Irving, his refusal to be vaccinated, the transfer of James Harden, the unavailability of Ben Simmons, the "sweep" against the Celtics…
Worse, during the summer of 2022, Kyrie Irving does not extend for several seasons, Kevin Durant asks to leave… Finally, the two stay to attack the season, but they get the head of Steve Nash, whom they no longer listen to. Jacque Vaughn takes control, and the nightmare disappears: the team strings together victories and poses as outsiders in the East. But the upturn will only last a few weeks. Kevin Durant injures his knee, Kyrie Irving refuses a contract extension he finds insulting, and he asks to leave. It will be for Dallas. Except that Kevin Durant doesn't see himself staying without him, and again, he asks to leave. On the wire, the Nets send it to the Suns, and here is Brooklyn which begins a new era.
For the technical part, management has already chosen to extend Jacque Vaughn over several seasons. Finally, a sign of stability! In the offices, the pressure is strong on the shoulders of Sean Marks, GM of the Nets. He had set up a crazy "Big Three", and it was a bitter failure.
Will he pay for it? According to the New York Postthe answer is "no" since the latter has the confidence of owner Joe Tsai, and he should therefore keep his position next season.
In office since February 2016, Sean Marks has just lived 24 very complicated months, and in the end, he rather limited the damage by recruiting young talents like Mikal Bridges, Cam Johnson, or seasoned veterans like Spencer Dinwiddie or Dorian Finney- Smith. The era of "bling bling" is over, but it reminds us of the interesting years of the group which had hung the playoffs in 2019 under the thumb of Kenny Atkinson.
As a bonus, to help him put together a team that is aiming for the title, Sean Marks has filled up on Draft rounds: 11 "first round" and 8 "second round" until 2029!