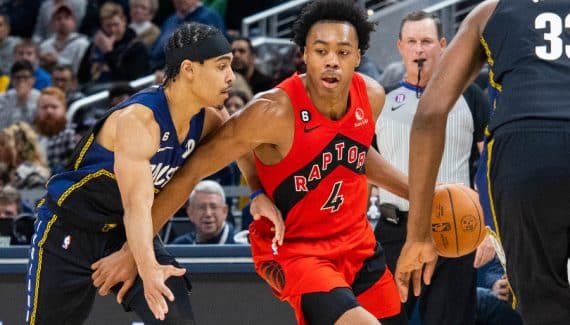 The Raptors are in trouble at the start of the season since they have to manage the absence of Pascal Siakam, the glitches of Fred VanVleet and Precious Achiuwa but also a virus which knocked out the group. But the Canadian franchise must also deal with the difficulties of Scottie Barneswho is stalling a little in his confirmation season after a remarkable rookie year punctuated by the Rookie Of The Year trophy.
In his seven games played since the beginning of November, we no longer find the explosive, hyperactive and efficient player of his debut. His address is at half mast (37% shooting success including 20% ​​at 3-points, against 52% in October at 2 and 3-points) and his last outings at 6/16, 5/13 and 4/16 shooting are worrying.
Year II in the NBA is never the easiest, especially when you have shone as he did in his rookie year. The absence of executives like Pascal Siakam or Fred VanVleet may also disturb his bearings. For Thaddeus Young, it's just a matter of time before he gets back to his best.
"It's always between you and yourself"slipped the veteran. "Scottie puts a lot of pressure on himself and a lot of weight on his shoulders. Sometimes it can be the thing that will kill you, but I like that about him, that he puts a lot of pressure on himself to be better every day. It can only make him a better individual and a better player."
His adversaries are now warned
Rockets coach Stephen Silas faced Scottie Barnes at the end of last season and at the start of the season. As is the case with his fullback Jalen Green, the Texas technician highlights the adjustments of opponents who have learned to contain him better after dissecting his game in 2021/22.
"The first year is about learning, finding out things and everything else, but it's also where your opponents are finding out about you," did he declare. "So you shouldn't be surprised when you come into play this season, unlike last year. The teams will make adjustments. That's what they're doing with Jalen (Green) and I'm sure they're doing the same with Scottie this season."
For Thaddeus Young, his young comrade is not yet mentally affected and continues to try to play his game. All that is obviously missing is a small click. Why not tonight against the young Pistons?
"You always see him go into his one-on-one mode, and when he has an advantage, he's going to play his opponent. It is therefore that his confidence has not diminished. It's just sometimes guys have a bad streak, or sometimes they have a bad start to the season and then they take off at some point. Things will change, they always change"assured Thaddeus Young confident about a quick rebound from his teammate.
Scottie Barnes
Percentage
Bounces
Season
Crew
GM
Minimum
Shots
3 points
LF
Off
Def
Early
pd
party
Int
bp
CT
Points
2021-22
TOR
74
35
49.2
30.1
73.5
2.6
4.9
7.5
3.5
2.6
1.1
1.8
0.7
15.3
2022-23
TOR
13
32
43.1
33.3
72.0
1.9
4.7
6.6
4.9
1.5
0.9
2.0
0.7
13.8
Total
87
35
48.3
30.7
73.3
2.5
4.9
7.4
3.7
2.4
1.1
1.9
0.7
15.1