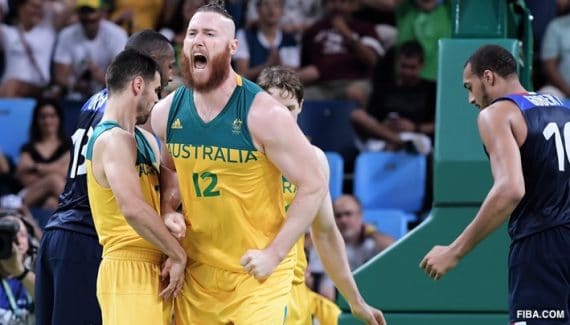 What happened in Australia's dressing room between the 3rd and 4th quarter of the game against Italy at the Tokyo Olympics? As he does almost every game, Aron Baynes left his teammates to go to the bathroom. He walked down the hall to the locker room, and he never came back…
On the bench of Australia, an assistant is worried about not seeing him return. He then goes to the changing rooms, and on the ground, near the toilets, he finds his pivot. He is on the ground, unconscious. His jersey is bloody and his arm is punctured in two places! Doctors are called immediately, and Baynes remembers nothing. He was running to go to the bathroom, and then, nothing.
As he regains his senses, to the point of sending photos of his marks on his arms to his agent, the doctors place him on a stretcher, and a scenario takes shape: the former pivot of the Celtics and the Raptors has slipped, and he caught his arm on two hooks used to hang towels, then his head hit the ground. He didn't have time to go to the toilet. He asks to go, but when he gets up from the stretcher, he collapses on the ground. He can no longer walk.
The fear of being quadriplegic
" The loneliest time in my life was when I was lying in that hospital, blacking out, reviewing my life plan and goals, and i just cried", says Baynes, who is talking about this ordeal for the first time. "My uncle Don had an accident 10 years ago. He is quadriplegic. My family had direct experience of what happened. I was so scared."
What we learn in this articleESPN, is that everything would have started three days before. At halftime of the first match of the Olympic Games against Nigeria. In the warm-up before the second half, Baynes lost his balance on a dunk attempt. His hands wet, his fingers slipped on the circle, and he fell backwards, on his head and neck.
"We don't really know what happened. Neurologists aren't sure this is the exact cause." says Baynes. "But I was in a lot of pain after that fall. I needed painkillers to play. "
The staff reassures him, and he continues the competition. Until this slip in the locker room where his condition worsens over the minutes. He cannot move, nor raise his left hand, then his arm…" After half an hour it really started to deteriorate confirms Baynes.
Lost In Translation
While his teammates wonder where he went, Baynes is taken to the hospital where he is found to have internal bleeding that puts pressure on his spinal cord. We are in full confinement in Tokyo, and Baynes finds himself alone in the middle of Japanese doctors with the most complicated communication. Baynes tries to use an instant translation application but nothing works, and to make him wait, the doctors place him in a narrow room where two beds are placed in a row to lengthen his large frame.
"He sent me a picture of the holes in his arm and told me the doctor was looking at him and then the only thing I knew was he was in a hospital bed and that his texts were panicked", says Daniel Moldovan, the agent of always Baynes. "No one could give us an answer. We were scrambling for information and trying to keep Rachel (his wife) up to date in Australia. I wanted to take the next flight but at that time I couldn't even enter Japan. "
Finally, his agent manages to contact an Australian neurologist. It is 2:00 am, but the latter reassures him, and he sets up a protocol with medication and rehabilitation. The goal: to reduce the swelling so that he is allowed to return to Australia.
It will last two weeks. Two weeks old glued to a bed, unable to move his arms or legs. "I couldn't react. I was like a mixture of burns, fire and stab wounds," says Baynes. "I needed painkillers, but they knocked me out immediately, so I had to take them according to the games. The nurses showed me so much compassion. "
To come and see him, two teammates pretend to be doctors
Ten days after entering the hospital, his teammates won the bronze medal. It's the first Olympic medal in Australian history and two teammates want to see him and bring him his medal. Matthew Dellavedova and Nathan Sobey pretend to be doctors to enter the hospital!
"It was a very emotional visit you know…" testifies Dellavedova. "We had come such a long way to get here and a big part of it was for this program. There were a few tears. I didn't want to have any problems with the Japanese officials, but I'm glad we got to go. "
Gradually, Baynes' health improved, and Australia chartered a special flight for him to Brisbane. Baynes still can't walk, and he's put on a stretcher, and they're armouring him with tranquilizers so he won't move during the eight-hour flight. But the journey doesn't stop when he lands because he has to go through a 15-day period of quarantine… Admittedly, he's in the hospital but he still can't see his wife and three children. He just sees them through a window…
The current NBA pleases him so much
Finally, he will stay a month in the hospital. He will first move from a stretcher to a wheelchair. Then, he will start to walk, and it will take time to regain a normal gait. Two months later, he runs again…
Today, Baynes has still not played in an official match. Last week, he celebrated his first week without a fall, and he played basketball for the first time. He took advantage of this regained form to appear for the first time in public. It was to cheer on Matthew Dellavedova during the game between the Brisbane Bullets and Melbourne United. He also follows the NBA where he discovers, with pleasure, that the referees let more play, and that obviously makes him want to resume and play with each other again.
"It's so much more fun now. That's how I grew up playing and I really want to get back into it," concludes Baynes. "I want to get there and every day I expect a lot from everyone around me. I don't know what the path will be like, but I will tear myself up to get there."