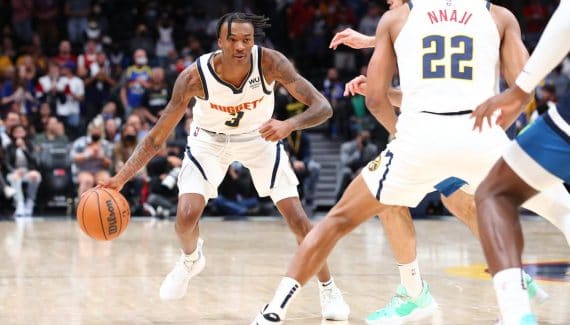 The Kings will ultimately have no representation at All-Star Weekend. the Sacramento Bee has indeed announced that Davion Mitchell will be absent from the Rising Stars Challenge tomorrow evening. In addition, The Athletic claims that Nuggets rookie Bones Hyland is drafted into "Team Payton" in place of the reigning NCAA champion.
The Kings rookie was out last night with a sore right hand, and his candor is playing it safe. Still in the race for a place in the "play-in", the Kings want to be complete for the final stretch of the season, and Mitchell's presence at this weekend's festivities is therefore not a priority.
It should be remembered that the NBA is testing a new format this year, with four teams, whose coaches are four legends: Rick Barry, Isiah Thomas, James Worthy and therefore Gary Payton. These four formations will face each other on Friday evening with the "Elam Ending" as a formula, with first two semi-finals, then a final.
During the semi-finals, the teams will have to reach the score of 50, and the first to do so will advance to the final. The two victorious teams will then have to reach a score of 25 during the final meeting, which therefore makes 75 points in total to win the tournament, an obvious nod to the 75th season that the NBA is currently celebrating.
TEAM THOMAS
Anthony Edwards, Saddiq Bey, Desmond Bane, Isaiah Stewart, Tyrese Haliburton, and Jaden Hardy.
TEAM BARRY
Evan Mobley, Cade Cunningham, Franz Wagner, Jae'Sean Tate, Isaac Okoro, Alperen Sengun and Dyson Daniels.
TEAM PAYTON
LaMelo Ball, Scottie Barnes, Jaden McDaniels, Ayo Dosunmu, Jonathan Kuminga, Bones Hyland and Scoot Henderson.
TEAM WORTHY
Cole Anthony, Josh Giddey, Jalen Green, Herbert Jones, Jalen Suggs, Tyrese Maxey and MarJon Beauchamp.