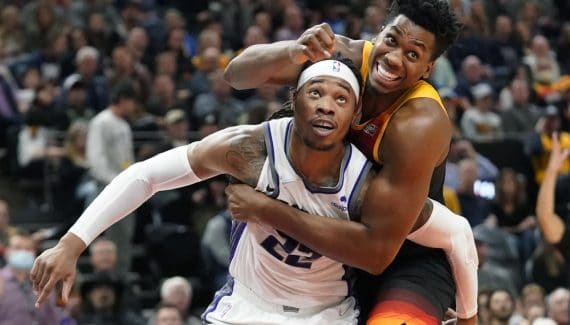 If Domantas Sabonis still has to find his balance and his place with the Kings, since he has just landed in Sacramento, Richaun Holmes, he knows where his is now: on the bench. The pivot was relegated among the substitutes following the arrival of the Lithuanian.
It's obviously difficult for him because his starting place has been indisputable in the Californian capital since 2019, with 136 matches started out of 142 possible, before the former Indiana player came to shake up this hierarchy. Not to mention that it had been extended last summer, for 46.5 million dollars over four seasons.
"We talked about it a bit"confesses Alvin Gentry for the Sacramento Bee. "And I will continue to talk to him about it. He has started more than 130 meetings in a row so it will be an adjustment for him too. We have to find a way to make it work. "
According to our colleagues from the Sacramento Bee, the leaders of the Kings tried to transfer him until the end of the "trade deadline", without success. And a departure this summer clearly doesn't seem like science fiction.
"As for any player, having a lesser role is hard"
Except that in the meantime, there is a season to finish and even if they have disappointed again, the Kings still have a chance to snatch a place for the "play-in", with 3.5 victories behind the Blazers, who currently sit in tenth place in the West. An involved and effective Richaun Holmes will therefore be essential for Sacramento.
"We want to continue playing with him in the same way, whether he is a starter or a substitute"explains De'Aaron Fox. "With lob passes, to keep him in the game. As for any player, having a lesser role is hard. But we're all professionals, and he's going to behave that way. "
So far, this role change has not been successful. Already regularly affected by injuries, Richaun Holmes ended his first part of the season badly with only 3 points at 38% shooting success and 2 rebounds on average, in 15 minutes, over the last four meetings.
" He's been there all week, coming every day," tried to reassure his coach, evoking his activity during these few days without competition. "Hopefully, when he comes back from the break, he'll be good old Rich again. It was hard for him. Sabonis plays a lot and he does not have his usual minutes. We have to find a way to bring him up to his level. He knows that we like the player he is. We haven't forgotten what he did for us last season and I hope he overcame all his injuries to give us 20 good matches. "
Richaun Holmes
Percentage
Bounces
Season
Team
GM
Minimum
Shots
3 points
LF
Off
Def
Early
pd
party
Int
bp
CT
Points
2015-16
PHL
51
14
51.4
18.2
68.9
1.2
1.4
2.7
0.7
1.8
0.4
0.6
0.8
5.6
2016-17
PHL
57
21
55.8
35.1
69.9
1.7
3.8
5.5
1.0
2.4
0.7
1.0
1.0
9.8
2017-18
PHL
48
16
56.0
12.9
66.1
1.2
3.2
4.4
1.3
2.0
0.4
0.5
0.6
6.5
2018-19
PHX
70
17
60.8
0.0
73.1
1.6
3.1
4.7
0.9
2.8
0.6
0.7
1.1
8.2
2019-20
BAG
44
28
64.8
0.0
78.8
2.9
5.3
8.1
1.0
3.8
0.9
1.2
1.3
12.3
2020-21
BAG
61
29
63.7
18.2
79.4
2.4
5.9
8.3
1.7
3.5
0.6
1.2
1.6
14.3
2021-22
BAG
41
25
66.9
40.0
77.0
2.1
5.2
7.4
1.1
2.9
0.4
1.3
1.0
11.0
Total
372
21
60.6
25.6
74.5
1.8
3.9
5.8
1.1
2.7
0.6
0.9
1.1
9.6