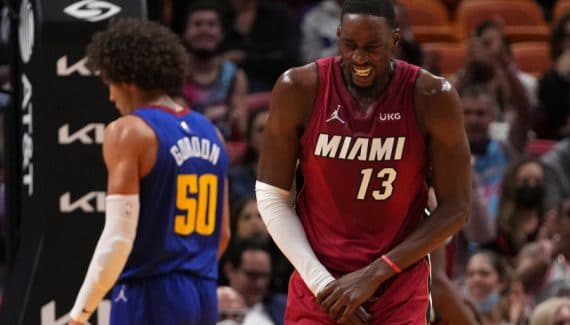 Six weeks after his right thumb injury, and his operation in stride, Bam Adebayo is preparing to return to the field. ESPN thus announces that the All-Star hopes to return to on Monday against the Raptors.
The 24-year-old interior is thus increasing the pace in training in order to be ready for the reception in Toronto.
More good news for Erik Spoelstra, whose group held up well, despite quarantines and injuries. In addition to Bam Adebayo, Jimmy Butler has missed a lot of games, but Miami has still won eight of its last ten games, to end up in 2nd place in the East (26 wins – 15 losses).
In the absence of Bam Adebayo, it was rookie Omer Yurtseven who stood out in Florida, averaging 10.3 points and 13.8 rebounds over his team's last 12 outings.
Bam Adebayo
Percentage
Bounces
Season
Team
GM
Minimum
Shots
3 points
LF
Off
Def
Early
pd
party
Int
bp
CT
Points
2017-18
MIA
69
20
51.2
0.0
72.1
1.7
3.8
5.5
1.5
2.0
0.5
1.0
0.6
6.9
2018-19
MIA
82
23
57.6
20.0
73.5
2.0
5.3
7.3
2.2
2.5
0.9
1.5
0.8
8.9
2019-20
MIA
72
34
55.7
14.3
69.1
2.4
7.8
10.2
5.1
2.5
1.1
2.8
1.3
15.9
2020-21
MIA
64
34
57.0
25.0
79.9
2.2
6.7
9.0
5.4
2.3
1.2
2.6
1.0
18.7
2021-22
MIA
18
33
51.9
0.0
75.9
2.7
7.4
10.2
3.2
3.3
1.1
2.9
0.3
18.7
Total
305
28
55.5
15.6
74.0
2.1
6.0
8.1
3.5
2.4
0.9
2.0
0.9
12.7