Basketball News
Rather LeBron James or Stephen Curry? JaVale McGee justifies his choice | NBA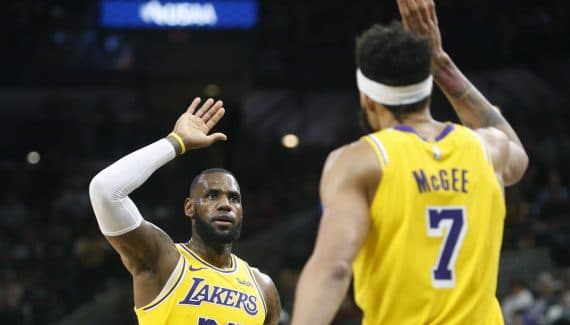 Three weeks ago, when signing for the Suns, JaVale McGee had answered questions from internet users via the Bleacher Report. When asked whether he had preferred to play with Stephen Curry or LeBron James, he replied: " I would probably say LeBron in my first season at the Lakers. "
Words that had somewhat reacted since JaVale McGee won two titles with the Warriors, and Shannon Sharpe asked him to explain his words.
"My answer was that I enjoyed playing with LeBron my first year at the Lakers but they cut my answer after 'freshman'. They just wrote that I liked playing with LeBron and then, you know how it goes, it makes clicky titles " explains the interior on the ShayShay Club set. "I enjoyed playing with LeBron in the first year at the Lakers because I was the starting hub. I had a game over 30 points and 20 rebounds. I broke my points record. So there was fun, and the fun of being successful. "
That's what made the difference between LeBron and Curry: being a starter and playing a big role.
"I didn't like that I didn't play a lot at Golden State, but I enjoyed winning. I enjoyed hanging out with these guys. I liked to play. But, we are all a little selfish and we all want to participate in the success ".
From the start of the school year, he will discover another parquet legend, Chris Paul. One of the best point guard in history, and he's anticipating a great season.
"Any interior that has played with Chris Paul has done well. I just think Chris is the brains of the team, and he's really going to lead us to the NBA Finals again " he concludes thus.
JaVale McGee
Percentage
Rebounds
Season
Team
MJ
Min
Shots
3pts
LF
Off
Def
Early
Pd
Fte
Int
Bp
Ct
Pts
2008-09
WAS
75
15
49.4
0.0
66.0
1.6
2.3
3.9
0.3
2.1
0.4
0.8
1.0
6.5
2009-10
WAS
60
16
50.8
0.0
63.8
1.5
2.6
4.1
0.2
2.0
0.3
0.9
1.7
6.4
2010-11
WAS
79
28
55.0
0.0
58.3
2.8
5.2
8.0
0.5
2.9
0.5
1.3
2.4
10.1
2011-12 *
All Teams
61
25
55.6
0.0
46.1
2.7
5.2
7.8
0.5
2.7
0.6
1.4
2.2
11.3
2011-12 *
WAS
41
27
53.5
0.0
50.0
3.1
5.7
8.8
0.6
2.9
0.6
1.7
2.5
11.9
2011-12 *
DEN
20
21
61.2
0.0
37.3
1.8
4.0
5.8
0.3
2.4
0.5
1.0
1.6
10.3
2012-13
DEN
79
18
57.5
100.0
59.1
2.0
2.8
4.8
0.3
2.3
0.4
1.1
2.0
9.1
2013-14
DEN
5
16
44.7
0.0
100.0
2.0
1.4
3.4
0.4
3.2
0.2
1.6
1.4
7.0
2014-15 *
All Teams
23
11
53.2
0.0
66.7
0.8
1.9
2.7
0.1
1.3
0.1
0.8
0.9
4.6
2014-15 *
DEN
17
11
55.7
0.0
69.0
0.8
2.0
2.8
0.1
1.7
0.1
0.8
1.1
5.2
2014-15 *
PHL
6
10
44.4
0.0
50.0
0.7
1.5
2.2
0.3
0.3
0.0
0.8
0.2
3.0
2015-16
DAL
34
11
57.5
0.0
50.0
1.6
2.4
3.9
0.1
1.4
0.2
0.6
0.8
5.1
2016-17
GOS
77
10
65.2
0.0
50.5
1.3
1.9
3.2
0.2
1.4
0.3
0.5
0.9
6.1
2017-18
GOS
65
10
62.1
0.0
73.1
0.9
1.7
2.6
0.5
1.4
0.3
0.4
0.9
4.8
2018-19
LAL
75
22
62.4
8.3
63.2
2.6
5.0
7.6
0.7
2.8
0.6
1.4
2.0
12.0
2019-20
LAL
68
17
63.7
50.0
64.6
1.8
3.9
5.7
0.5
2.3
0.5
0.8
1.4
6.6
2020-21 *
All Teams
46
15
51.1
20.8
65.7
1.7
3.5
5.2
0.9
2.6
0.4
1.3
1.2
7.3
2020-21 *
KEY
33
15
52.1
25.0
65.5
1.6
3.5
5.2
1.0
2.4
0.5
1.4
1.2
8.0
2020-21 *
DEN
13
14
47.8
0.0
66.7
1.8
3.5
5.3
0.5
3.2
0.2
1.2
1.1
5.5
2021-22
PHX
31
16
65.3
25.0
68.8
2.5
4.9
7.5
0.7
2.6
0.4
1.6
0.8
10.6
Total
778
17
57.4
18.0
59.9
1.9
3.4
5.2
0.4
2.2
0.4
1.0
1.5
8.0