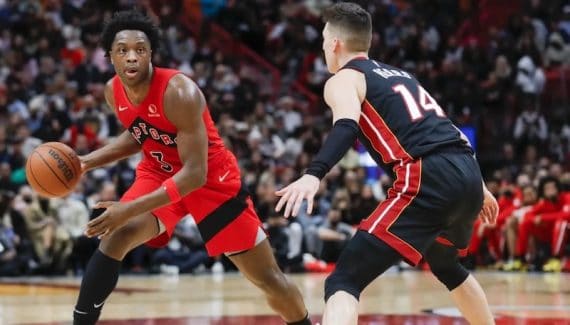 Nick Nurse finally imagined being able to rely on a full workforce after the "All-Star Break". Missed. The Raptors announced thatOG Anunoby fractured his right ring finger. A " small fracture" according to Sportsnetstating that the British-Nigerian was already suffering from pain ahead of the season break.
The player, who will consult a specialist on Monday, had yet taken part in training on Wednesday and Thursday this week. Nick Nurse could not say more about the duration of his unavailability.
" We have proven that he can probably play despite the injury, but I think we need him to see someone, or make sure that is the case. Or maybe we can cure it fast so we can go from there", said the coach.
His player had already missed 13 games this season due to a hip injury suffered in mid-November, and two more under health protocols. Despite these absences, the winger took a little more importance in the game of the Raptors by turning to 17.5 points and 5.5 rebounds on average.
Downside to his best statistical career season, his three-point percentage (35%) down. And on his last three outings, he only brought 7 points on average to 28% on shots. In his absence that night against the Hornets, Nick Nurse trusted Khem Birch again without much success (1 point at 0/3 and 4 rebounds).
Ogugua Anunoby
Percentage
Bounces
Season
Team
GM
Minimum
Shots
3 points
LF
Off
Def
Early
pd
party
Int
bp
CT
Points
2017-18
TOR
74
20
47.1
37.1
62.9
0.6
1.9
2.5
0.7
1.8
0.7
0.6
0.2
5.9
2018-19
TOR
67
20
45.3
33.2
58.1
0.9
2.1
2.9
0.7
2.1
0.7
0.8
0.3
7.0
2019-20
TOR
69
30
50.5
39.0
70.6
1.2
4.1
5.3
1.6
2.4
1.4
1.1
0.7
10.6
2020-21
TOR
43
33
48.0
39.8
78.4
1.3
4.3
5.5
2.2
2.7
1.5
1.7
0.7
15.9
2021-22
TOR
42
37
43.6
35.1
74.8
1.6
3.9
5.5
2.6
3.0
1.6
1.8
0.6
17.5
Total
295
27
46.9
36.9
70.6
1.0
3.1
4.1
1.4
2.3
1.1
1.1
0.5
10.4