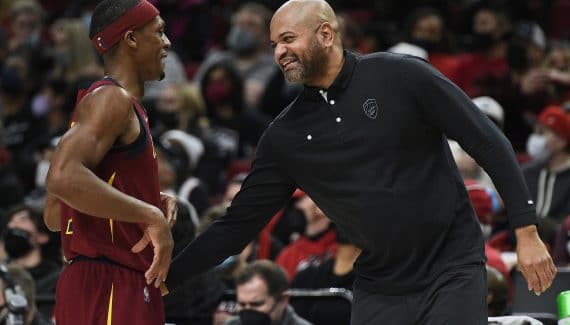 "I'm the oldest guy on the team here in terms of years of experience. The game is like that, always give to the guys who come after you. We were like that with me, and it's my turn to transmit.
Rajon Rondo arrived over-motivated, coming from the Lakers, to join the beautiful epic of the Cavs who signed a third victory in four away games since his arrival, winning 111-91 on the floor of Utah tonight. Even if he did not play in Salt Lake City, the leader lives again in the role of veteran within a team made up of young talents in the making, with in particular Darius Garland, Evan Mobley or Jarrett Allen.
"I always want to be competitive at a high level. I was fine in Los Angeles. But at the same time, for my mental wellbeing, I think I'll be a lot happier now because I like competing and being involved.", he confided."And here, I will have the opportunity. It's a matter of perspective. I always look at things in many different ways. I didn't go crazy on the bench there, but I wanted to play and have more impact. (…) Here, I know what my role is. I come here to get involved, to be active and to have a big iNFLuence on these young guys. Try to be a pro".
A good steak to bond
Thus, after his first victory in his new jersey, on the side of Portland, Rajon Rondo took the initiative to take the whole team to "El Gaucho", a famous "Steakhouse" in the city. A way to get to know each other and develop a spirit of camaraderie within his group where he very quickly took an important place. And as a good leader, it was he who took charge of the bill.
" I love eating. My veterans have always paid the bill. And at the same time, that's how you build camaraderie, because everyone likes to eat and have a good conversation, with a little glass of wine for those who can.
In a good atmosphere and after a great victory, anecdotes and common points then fused, until Rajon Rondo realized that he had played in high school near Gary (Indiana), where Darius Garland was born! It is exactly for this kind of small details that strengthen a group that the veteran had shot down the "resto" card. The opportunity also for him to realize how much he is now part of the "old" generation.
"When I played in the city of Darius Garland, I think he was barely born! ", he launched. "We shared a few stories like that after dinner. It helped me get to know them better. And after hearing how they saw me, I said to myself: 'It's true that I've been playing for a long time. It is a lesson in humility. Because these guys are closer in age to my kids than mine. When I got to 20, my veteran was called Kevin Garnett. I would like to have the same iNFLuence for them and help them build a culture of winning".
His arrival also represents a tremendous boost for the rest of the team, delighted to be able to evolve alongside such a player, who will bring as much on the floor as off.
"It means a lot to have him with us, to count on the presence of another veteran, a creator who involves everyone", confirmed Darius Garland. "In Portland, we chatted over dinner to get to know each other better, like new teammates do. I was super excited for him to come. I'm so young it's cool to have another veteran.
Rajon Rondo
Percentage
Rebounds
Season
Team
GM
Minimum
Shots
3pts
LF
Off
Def
Early
Pd
Fte
Int
Bp
Ct
Points
2006-07
BOS
78
24
41.8
20.7
64.7
1.0
2.8
3.7
3.8
2.3
1.6
1.8
0.1
6.4
2007-08
BOS
77
30
49.2
26.3
61.1
1.0
3.2
4.2
5.1
2.4
1.7
1.9
0.2
10.6
2008-09
BOS
80
33
50.5
31.2
64.2
1.3
4.0
5.2
8.2
2.4
1.9
2.6
0.1
11.9
2009-10
BOS
81
37
50.8
21.2
62.1
1.2
3.2
4.4
9.8
2.4
2.3
3.0
0.1
13.7
2010-11
BOS
68
37
47.5
23.3
56.8
1.3
3.1
4.4
11.2
1.8
2.3
3.4
0.2
10.6
2011-12
BOS
53
37
44.8
23.8
59.7
1.2
3.7
4.9
11.7
1.9
1.8
3.6
0.1
11.9
2012-13
BOS
38
37
48.4
24.0
64.5
1.1
4.5
5.6
11.1
2.5
1.8
3.9
0.2
13.7
2013-14
BOS
30
33
40.3
28.9
62.7
0.7
4.7
5.5
9.8
2.2
1.3
3.3
0.1
11.7
2014-15*
All Teams
68
30
42.6
31.4
39.7
1.1
4.4
5.5
7.9
2.3
1.3
3.1
0.1
8.9
2014-15*
LAD
46
29
43.6
35.2
45.2
1.0
3.5
4.5
6.5
2.4
1.2
2.9
0.1
9.3
2014-15*
BOS
22
32
40.5
25.0
33.3
1.1
6.4
7.5
10.8
1.9
1.7
3.4
0.1
8.3
2015-16
BAG
72
35
45.4
36.5
58.0
1.1
5.0
6.0
11.7
2.4
2.0
3.9
0.1
11.9
2016-17
CHI
69
27
40.8
37.6
60.0
1.1
4.1
5.1
6.7
2.1
1.4
2.5
0.2
7.8
2017-18
NOP
65
26
46.8
33.3
54.3
0.5
3.6
4.1
8.2
1.8
1.1
2.3
0.2
8.3
2018-19
LAL
46
30
40.5
35.9
63.9
0.7
4.5
5.3
8.0
2.2
1.2
2.8
0.2
9.2
2019-20
LAL
48
21
41.8
32.8
65.9
0.5
2.5
3.0
5.0
1.2
0.8
1.9
0.0
7.1
2020-21 *
All Teams
45
17
44.2
40.4
94.1
0.4
2.0
2.4
4.4
1.2
0.8
1.8
0.1
5.4
2020-21 *
ATL
27
15
40.0
37.8
50.0
0.2
1.9
2.0
3.5
0.9
0.7
1.4
0.1
3.9
2020-21 *
LAKE
18
20
48.6
43.2
100.0
0.8
2.3
3.1
5.8
1.6
1.0
2.2
0.1
7.6
2021-22 *
All Teams
21
17
34.7
31.8
75.0
0.5
2.4
2.9
3.9
1.5
0.7
2.0
0.2
4.1
2021-22 *
LAL
18
16
32.4
26.7
50.0
0.6
2.2
2.7
3.7
1.4
0.7
1.9
0.3
3.1
2021-22 *
KEY
3
22
41.7
42.9
83.3
0.3
3.7
4.0
4.7
2.0
1.0
2.3
0.0
10.3
Total
939
30
45.7
32.2
61.0
1.0
3.6
4.6
8.0
2.1
1.6
2.7
0.1
9.8