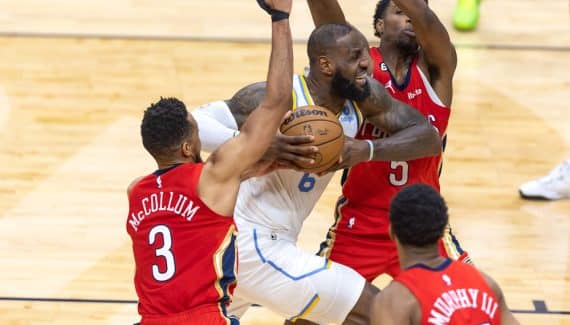 At 11 days from the end of the regular season, we still only know two qualified for the playoffs in the West, the Nuggets And the grizzlies. The Kings could accompany them tonight, or very soon since the teammates of Domantas Sabonis only need a victory, depending on the results of their pursuers.
Chasers still glued to each other! The Suns (40-35) are still not guaranteed to go to… "play-in" since there are only three successes with the mavericks, 11th. Moreover, the race for the Top 6 has become more exciting than the race for the "play-in" since the Clippers (40-36) and the Warriors (40-37) saw Wolves (39-37) invite themselves, for an evening, in the Top 6. Rudy Gobert's teammates remain on four victories in a row. In the ESPN projections, the Top 7 is almost complete.
Jazz out of the race?
There are between five and seven games left to play for the nine teams still concerned by the playoffs and the "play-in", and a small gap has widened with the 8th, the pelicans (38-38), who have the most difficult schedule. Behind, we find the lakers (37v-38d) and the duo Thunder Mavericks (37v-39d). Dallas lost big with those two losses to the Hornets, while Jazz seems out of the race with four losses in a row, many injuries, and only 35 wins for 40 losses.
IMPORTANT MEETINGS OF THE WEEK
Wednesday : Sixers–Mavericks; Bulls–Lakers; Grizzlies–Clippers; Thunder – Pistons; Suns–Wolves.
THURSDAY : Nuggets–Pelicans.
Friday : Pacers–Thunder; Grizzlies–Clippers; Wolves–Lakers; Warriors–Spurs
SATURDAY : Heat–Mavericks; Pelicans–Clippers
Sunday : Wolves–Blazers; Thunder–Suns; Rockets–Lakers; Hawks–Mavericks; Nuggets–Warriors
ESTIMATES
| SCREENINGS ESPN (playoff chances) | SCREENINGS BRIEF (playoff chances) |
| --- | --- |
| 1. Nuggets (100%) | 1. Nuggets (100%) |
| 2. Grizzlies (100%) | 2. Grizzlies (100%) |
| 3.Kings (100%) | 3.Kings (100%) |
| 4. Suns (98.8%) | 4. Suns (98.6%) |
| 5. Clippers (92.2%) | 5.Warriors (86.1%) |
| 6.Warriors (91%) | 6.Wolves (83.3%) |
| 7.Wolves (88.1%) | 7. Clippers (82.1%) |
| 8. Lakers (45.6%) | 8. Pelicans (52.7%) |
| 9. Mavs (35.8%) | 9. Lakers (34.6%) |
| 10. Pelicans (35.7%) | 10.Thunder (30.1%) |
| 11.Thunder (11.8%) | 11.Mavs (28%) |
| 12. Jazz (0.9%) | 12. Jazz (3.8%) |
| TEAM / REMAINING MATCHES | TOUGHEST OPPONENTS |
| --- | --- |
| Pelicans / 6 | Nuggets, Grizzlies, Kings, Knicks, Clippers, Wolves |
| Clippers / 6 | Lakers, Grizzlies x2, Suns, Thunder, Pelicans |
| Suns / 7 | Nuggets x2, Lakers, Clippers, Wolves, Thunder |
| Jazz / 7 | Celtics, Nuggets, Nets, Suns, Lakers x 2, Thunder |
| Mavericks / 6 | Sixers, Kings, Heat, Hawks, Bulls |
| Warriors / 5 | Nuggets, Kings, Thunder |
| Thunder / 6 | Grizzlies, Suns, Warriors, Jazz |
| Lakers / 7 | Suns, Clippers, Wolves, Jazz x 2, Bulls |
| Wolves / 8 | Nets, Suns, Warriors, Lakers, Pelicans |