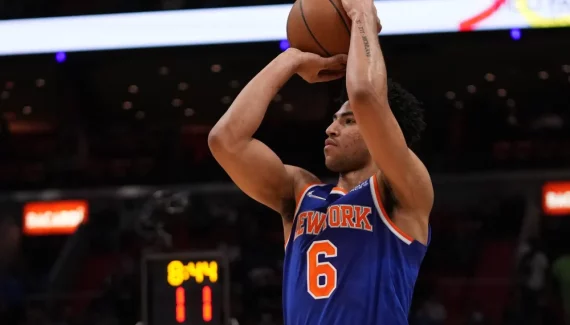 While Tom Thibodeau said before the game that he would not face any minute restrictions, Quentin Grimesfor his first game of the season against Atlanta on the night of Wednesday to Thursday, was only entitled to crumbs.
Entered the "garbage time", when the defeat of the Knicks was recorded, the "second year" actually spent only five short minutes on the boards of Madison Square Garden, after having missed the first six games of the season because left foot pain.
And to believe the words of "Thibs", there is no reason to think that should change during the next outings of the Knicks. " Its use will be defined according to the situation of each match. But we're keeping an eye on him. » said the Knicks technician.
In other words, the rotation should not be rushed, and Quentin Grimes should remain behind Evan Fournier and Cam Reddish, in the hierarchy of external positions.
The main interested party prefers to see him with caution, on the part of the staff. " They don't want to rush my return, and make me play 30 minutes at once. So at the moment, I remain ready to respond to any need for Thibs on the pitch. »
Business to follow, while the Knicks are already on a slippery slope, with three defeats in a row and a tough schedule to come. Without improvement, maybe Tom Thibodeau will open up to changes in his rotation, before his position is in danger…
Shots
Bounces
Players
GM
Minimum
Shots
3 points
LF
Off
Def
Early
pd
bp
Int
CT
party
Points
Jalen Brunson
7
33.7
48.1
32.1
74.1
0.3
3.4
3.7
6.9
1.9
1.1
0.3
2.7
18.4
Rj Barrett
7
34.8
40.7
23.7
80.0
1.3
4.4
5.7
2.6
2.0
0.1
0.3
2.0
17.9
Julius Randle
7
32.6
42.6
20.7
69.6
2.1
6.7
8.9
3.3
2.4
1.1
0.3
4.1
17.7
Evan Fournier
7
24.4
40.0
39.0
85.7
0.1
2.6
2.7
1.6
1.0
0.7
0.1
2.9
10.6
Obi Toppin
7
16.0
51.9
45.8
100.0
0.9
2.6
3.4
1.3
0.7
0.1
0.1
0.7
9.9
Immanuel Quickley
7
23.2
37.5
31.0
75.0
0.9
5.1
6.0
4.0
1.7
0.6
0.1
1.3
9.0
Isaiah Hartenstein
7
25.1
53.2
20.0
75.0
3.7
4.0
7.7
1.1
1.1
1.0
1.4
2.9
8.3
Cam Reddish
7
18.3
47.8
36.8
80.0
0.3
2.0
2.3
0.7
1.0
0.4
0.4
1.9
7.9
Derrick Rose
7
13.6
50.0
47.4
100.0
0.3
1.9
2.1
2.4
1.0
0.1
0.1
0.7
7.7
Mitchell Robinson
7
23.2
69.7
0.0
42.9
3.9
3.1
7.0
1.0
0.7
0.4
2.6
3.7
7.4
Svi Mykhailiuk
1
1.8
100.0
100.0
0.0
0.0
2.0
2.0
0.0
0.0
0.0
0.0
0.0
3.0
jericho sims
2
1.7
0.0
0.0
0.0
0.0
0.5
0.5
0.0
0.0
0.0
0.0
0.0
0.0
Trevor Keels
1
1.0
0.0
0.0
0.0
0.0
1.0
1.0
0.0
0.0
0.0
0.0
0.0
0.0
Quentin Grimes
1
4.6
0.0
0.0
0.0
0.0
0.0
0.0
1.0
0.0
0.0
0.0
1.0
0.0
Ryan Arcidiacono
1
1.8
0.0
0.0
0.0
0.0
0.0
0.0
0.0
0.0
0.0
0.0
1.0
0.0
Miles Mcbride
2
1.7
0.0
0.0
0.0
0.0
0.0
0.0
0.0
0.0
0.0
0.0
0.5
0.0