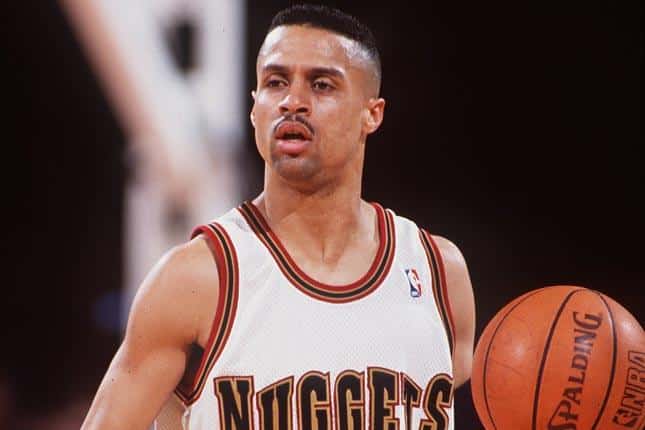 Alas, even religion cannot do anything about it. Chris Wayne Jackson, Progression of the Year 1993 in the jersey of the nuggets, is sick. Two years earlier, in July 1991, he became Mahmoud Abdul Rauf (54 years old on March 9), confirming his conversion to Islam by a pilgrimage to Mecca. But his problem is still there.
The medical profession calls this Tourette's syndrome. An (incurable) genetic disorder of nerve impulse transmission. That's for the definition. Concretely, this gives bizarre tics and behaviors. In Gulfport, Mississippi, the neighborhood didn't look far…
Suffering from Tourette's syndrome
Born on March 20, 1969, little Chris Jackson was crazy and he had someone to take. His uncle was nicknamed "Crazy Willy" and his mother, Jacqueline, had a sometimes strange attitude. She had fun scaring her three children, preferred to sleep next to her bed, talked to herself while walking up the main street…
The family doctor, more sympathetic than the neighbors, diagnosed epileptic seizures by seeing Chris roll his eyes, raise a shoulder to his ear or utter little uncontrolled Michael Jackson-style cries.
With age, seizures become constant. Looking in a mirror, Chris becomes aware of the disease. His prayers don't change that. His only salvation is a basketball court.
There, focused on his subject, he settles accounts with others and with himself. Not the slightest tremor when he cocks his shot, no shrill cries when passing. The "crazy" wanders around so much, that he is voted best high school student in the state of Mississippi two years in a row. Ball in hand, he transforms one of his "characteristics" into quality.
Chris has a mania, he repeats the same gesture over and over again. A kind of obsessive search for perfection. Thus, he takes a quarter of an hour to tie his shoes… so that the laces fall perfectly. He opens and closes the refrigerator door ten times until the "click" confirms that the food will not rot. He constantly puts on and puts back the tail of his shirt. He seeks the same perfection in his jumpshot. Sometimes against his will.
" We had played for three hours. The friends were waiting for me in the car and I continued to shoot. I wanted to leave but I couldn't. The friends yelled but nothing to do. I had to end with a perfect series. »
One of the most incredible scorers in the NCAA
At this rate, Chris Jackson quickly becomes a shooting machine. Despite its local "reputation", it is courted by the best universities. Not to stray too far from his roots, he chose Louisiana State University.
From the first year, it's a full house: leading scorer in the South Eastern Conference with 30.2 points per game and the NCAA record for a freshman with 55 points in a game. Chris is so above the rest that he will only stay two years at LSU. Out of 64 matches, he scored more than 20 points 52 times. This includes 28 games over 30 points, 11 over 40 and 4 over 50…
LSU coach Dale Brown says he was touched by God's grace. Alonzo Mourning, then in Georgetown, saw "no better shooter than him in the whole country". It's time to go see what's going on in the NBA.
denver chose him in 3rd position in the 1990 Draft (hence the number 3 on his jersey). Doug Moe, the coach at the time, goes so far as to call him a "mini-Jordan", compared to his 83 meter. The rest looks more like a mini-disaster.
On the advice of his relatives and some coaches who find him a little frail, Chris Jackson gains weight during the summer. Add to that a problem with his ankles—a bony growth on both feet—which he prefers to fix later, and the will-o'-the-wisp turns into a tractor. Unrecognizable. So much so that Paul Westhead, who replaced Doug Moe on the bench, has to watch a K7 video to remember the player who was drafted…
To complete the picture, Chris struggles to live with his illness in the NBA context. Onomatopoeia released involuntarily earned him whistles. Nervous nudges tend to infuriate his teammates, sitting next to him on the plane or at the table. Journalists don't always have the necessary patience when, during interviews, Chris mechanically answers questions… Unaware of this particular case, he is considered arrogant or, "at best", stupid.
" When I wake up, I constantly try to control my voice, my intonation, the tension, the movements ", detailed Abdul-Rauf in 2018 " We are constantly moving. People think I'm warming up but most of the time it's Tourette. We learn how to hide it. These moments of tranquility are priceless. Some have it all day. They take it for granted. »
Most Improved Player in 1993
Despite overall honorable figures for his rookie season (14.1 points on average), Chris Jackson is disappointing. He is in constant conflict with Paul Westhead who can't stand having to build a team around a player undergoing medical treatment. With his tics, his hiccups and his rolls, Jackson annoys the coach. The following year is worse and yet his ankles are now in good condition. He knows the bench more often than not, but the confidence does not disappear: " My time will come ", he assures his mother during the summer of 1992.
So Chris pulls out all the stops to make it happen. He becomes a pillar of the weight room: six hours of work a day and a minimum of 600 shots per session cause him to lose… 15 kilos. Arriving at the next training camp, he gets everyone to agree. Dan Issel, the new coach, had warned that no place was automatically assigned. But Chris quickly takes his own: titular leader. " He came out of his shell noted winger Reggie Williams.
We are dealing with another man. Besides, Chris Jackson is no more. By converting to Islam in the summer of 1991, he became Mahmoud Abdul-Rauf (proposed translation: elegant, charitable and good).
The change was confirmed at the end of the 1992/93 season, when he was voted Most Improved Player with averages of 19.2 points, 4.2 assists and 2.8 rebounds (45% in shooting, including 36% from 3-pointers, and 94 % to throws…). Returning from Mecca, he spoke of " the greatest experience of (his) life ".
Mahmoud then has only one desire: to return there. " I haven't suffered enough ", he explained, in search of perfection as always.
When we talk about basketball, the speech is of the same barrel: " Last year I was on a mission. This year, I want to destroy everything. I have no more time to waste. An NBA career is short. »
In addition to his five daily prayers, Mahmoud Abdul-Rauf aligns the big performances, running at more than 16 points on average for three years (including a new peak at 19.2, in 1995/96). An emergency made even more burning by the evolution of his illness, which often leads to mental degeneration.
End of career as a globetrotter
Life is not a long quiet river. Even less for Abdul-Rauf. Sent to Sacramento during the summer of 1996, he became the second offensive option after Mitch Richmond (13.7 points in 75 games), before waxing the bench behind Anthony Johnson. His playing time fell to 17 minutes (7.3 points in 31 games) during the 1997/98 season, which saw his debut for the Kings of his brother in religion: the Frenchman Tariq Abdul-Wahad.
Mahmoud Abdul-Rauf then flies to Turkey, direction Fenerbahçe. In 2000, after a sabbatical year, he returned to the NBA, Vancouver, as Mike Bibby's second understudy. Shareef Abdur-Rahim, also a devout Muslim, is on fire for nothing (20.5 points).
After this episode Grizzlies, Abdul-Rauf takes a break for two years, reappears in Russia then in Italy, and announces his retirement for the third time… broken off in 2006. We will see him again in Greece and Saudi Arabia, after another one-year break. At 40, he moved to Japan and, finally, we found him in 2018 in the Big3, this league of veterans set up by Ice Cube.
He has not changed, still as lucid about our society but also about his sport and his desires.
" I guess I really like the game but I'm just competitive. I understand that losing is part of life ", he confided. " I guess it all depends on how you view defeat. […] When I lose, I say: 'I didn't lose, I learned'. I hate when people don't count on me and exclude me. We discriminate a lot, sometimes we discriminate against ourselves: 'Because I'm old, I'm not capable of, etc…' No, no, no. We have the ability to adapt and achieve great things. That's what keeps me going… »
Beyond the figures – leader in the percentage of success in free throws in 1994 and 1996, with a successful throw of the record of Calvin Murphy over one season -, Mahmoud Abdul-Rauf leaves the image of a pious man who drew in religion the strength to fight a vicious evil.
A man who also dared to challenge the NBA in the name of his beliefs, refusing to listen to "The Star-Spangled Banner" in front of the American flag before every game. A star-spangled banner symbol for him of "repression" in a country with a heavy "past of tyranny". Suspended for one game in March 1996, Abdul-Rauf still won the right to be able to close his eyes or look down during the performance of the anthem. He also got into the habit of reciting a prayer in silence…
Twenty-five years later, the players kneel during the anthem, fists raised to the sky…
Mahmoud Abdul Rauf
Percentage
Bounces
Season
Crew
GM
Minimum
Shots
3 points
LF
Off
Def
Early
pd
party
Int
bp
CT
Points
1990-91
DEN
67
23
41.3
24.0
85.7
0.5
1.3
1.8
3.1
2.2
0.8
1.6
0.1
14.1
1991-92
DEN
81
19
42.1
33.0
87.0
0.3
1.1
1.4
2.4
1.6
0.5
1.4
0.1
10.3
1992-93
DEN
81
34
45.0
35.5
93.5
0.6
2.2
2.8
4.3
2.2
1.0
2.3
0.1
19.2
1993-94
DEN
80
33
46.0
31.6
95.6
0.3
1.8
2.1
4.5
1.9
1.0
1.9
0.1
18.0
1994-95
DEN
73
29
47.0
38.6
88.5
0.4
1.4
1.9
3.6
1.7
1.1
1.6
0.1
16.0
1995-96
DEN
57
36
43.4
39.2
93.0
0.5
2.0
2.4
6.8
2.1
1.1
2.0
0.1
19.2
1996-97
BAG
75
28
44.5
38.2
84.6
0.2
1.4
1.6
2.5
2.3
0.8
1.6
0.1
13.8
1997-98
BAG
31
17
37.7
16.1
100.0
0.2
1.0
1.2
1.9
1.0
0.5
0.6
0.0
7.3
2000-01
VAN
41
12
48.8
28.6
75.9
0.1
0.5
0.6
1.9
1.2
0.2
0.6
0.0
6.5
Total
586
27
44.2
35.4
90.5
0.4
1.5
1.9
3.6
1.9
0.8
1.6
0.1
14.6