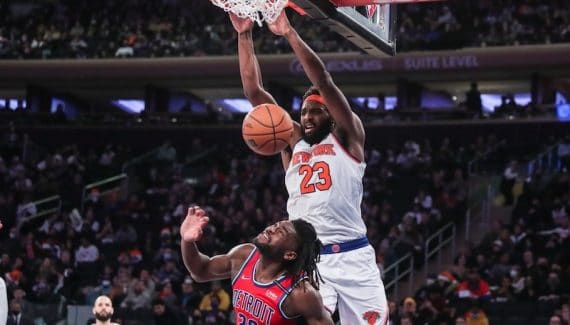 Detroit will have one of the biggest financial leeway next summer, and according to Mark Steinthe leaders have an idea of ​​the player on whom they intend to bet part of their millions: Mitchell Robinson.
He is coming to the end of his contract with the Knicks and will present himself as an unprotected free agent. This interest of the Pistons, like that of the Mavs or the Pelicans, had already been mentioned a few weeks ago.
Even if he hasn't changed much statistically since his arrival in the league four years ago, the 36th choice of the 2018 Draft remains a force in the racket, capable of capturing a lot of rebounds and of being a deterrent under The circle. As he proved last night against the Nets with some big offensive rebounds and this huge counter on Kevin Durant. Paid barely up to $ 2 million this season, he could probably multiply his salary by five with his new contract.
It remains to be seen what this supposed interest from the Pistons could mean for newcomer Marvin Bagley or for the development of youngster Isaiah Stewart who has been the starting pivot since the start of the season. Despite the activity of this 2m03 interior, Detroit is one of the worst teams in the league in the rebound battle. A few more centimeters would probably not be too much to solidify the area.
Mitchell Robinson
Percentage
Bounces
Season
Team
GM
Minimum
Shots
3 points
LF
Off
Def
Early
pd
party
Int
bp
CT
Points
2018-19
NYK
66
21
69.4
0.0
60.0
2.7
3.7
6.4
0.6
3.3
0.8
0.5
2.4
7.4
2019-20
NYK
61
23
74.2
0.0
56.8
3.1
4.0
7.0
0.6
3.2
0.9
0.6
2.0
9.7
2020-21
NYK
31
28
65.3
0.0
49.1
3.7
4.5
8.1
0.6
2.8
1.1
0.8
1.5
8.3
2021-22
NYK
61
25
76.9
0.0
48.6
3.9
4.9
8.8
0.5
2.8
0.8
0.8
1.7
8.4
Total
219
24
72.2
0.0
54.3
3.3
4.2
7.5
0.5
3.0
0.8
0.7
2.0
8.4