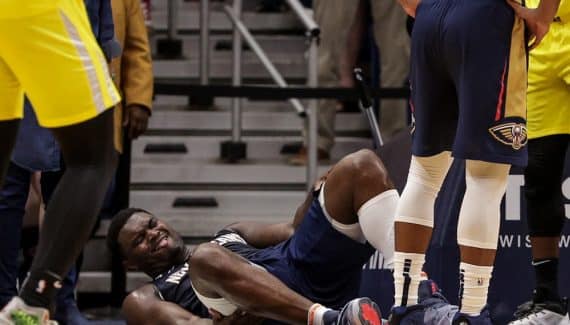 It's the sword of Damocles that hangs over all NBA teams, but especially over New Orleans, which has already gone an entire season without its superstar. Zion Williamson, last year. The permanent fear of injury unfortunately returned to the fore last night for the Pelicans who lost Brandon Ingram early in the game, then Williamson during the last quarter.
Hit in the face on an involuntary clash with teammate Naji Marshall, Ingram first signaled to his teammates that he was ready to return to battle on the boards, after a quick inspection by the team doctor. But a minute after coming into play in the second quarter, Ingram left the field to go directly to the locker room…
With 10 points in 11 minutes of play against Utah, Ingram seemed to be on his early season standards (28 points, 8 rebounds and 6 assists on average), but this blow disturbed him enough for him to leave. .
To make matters worse, and while the Pels seemed on their way back against Utah, it was Williamson who also had to leave his teammates in the last quarter. Launched for a big dunk after countering Jordan Clarkson, the leaping NOLA winger was caught by the Filipino Jazz international who played the shot well, going to counter Williamson as the latter extended his arm back (thus exposing the leather).
"It is an unfortunate action"McCollum said on ESPN. " [Clarkson] played the ball and it fell backwards. We hope he will be back soon. »
Falling full length on his back, Williamson will get up but he too will join the locker room a few minutes later, with a hip bruise. Basically a blue.
"I don't know what it is" confessed Willie Green at a press conference. "After the game, I just went to talk to the team in the locker room; I have not yet had the opportunity to discuss with the medical staff. We will have the information very soon and we will send it to you as soon as possible. »
Without Ingram or Williamson, who was at 25 points and 6 rebounds before being forced to retire, the Pelicans managed to make up 17 units to move ahead. But this devil of Clarkson will return a 3-pointer to snatch the extension, then Kelly Olynyk will take care of registering the winning basket.