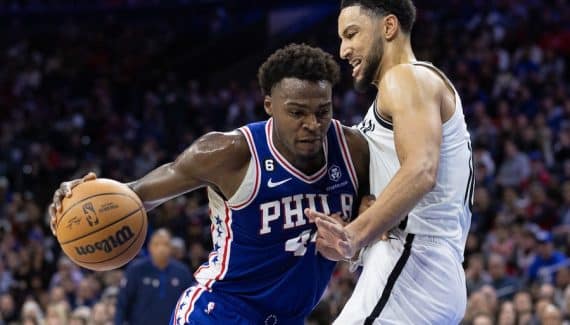 With their top three scorers (Joel Embiid, Tyrese Maxey and James Harden) on the sidelines, the 76ers were anything but the big favorites for this game against the Nets. To compensate for the absence of his superstar pivot, Doc Rivers had opted for Montrezl Harrell in his five major. This one was much less sparkling than the third man in the rotation in this position, Paul Reed.
" They were great. It was a good combination. Trez was good on his first run, but then I found he didn't have the same energy. While in my opinion, Paul kept the energy throughout the match and that's why we kept him (on the floor)", analyzes the coach of the Sixers.
In 16 minutes of play, the former 6th man of the Clippers, whose statistical production is in free fall this season, had to settle for 6 points and 7 rebounds with a low shooting success (2/8) and -10 in score when in play.
Where his replacement actually deployed crazy energy over 31 minutes: 19 points (7/9 on shots), 10 rebounds, 3 steals and 2 blocks. And above all, a +21 to the mark.
"Bball Paul"
" Bball Paul (note: his nickname) ! "Enthuses De'Anthony Melton, another X factor this night (22 points), before developing:" A good little game with 19 points and 10 rebounds. He was active and that's what we needed on both sides of the floor. Getting offensive rebounds, playing in transition, clearing the circle, setting screens and cutting: he was brilliant tonight. »
" He's so young and he plays with a lot of heart ", completes Tobias Harris by praising the defensive qualities of his 23-year-old teammate and his good readings on the "pick-and-roll". The interior had not scored more than… 2 points in a match this season. That night, he jumped at the chance to post his second career double-double.
Despite some clumsiness in the last quarter (2 lost balls), he sanctioned the thin racket of the Nets. We have also seen him win more than once under the circle against his former teammate, Ben Simmons. But Paul Reed dismisses the idea of ​​an additional motivation linked to facing the Australian. " No, it was fun to play against him but I wanted to win. I knew the team needed it. »
With the uncertain length of Joel Embiid's absence, the 76ers will still need that kind of performance.