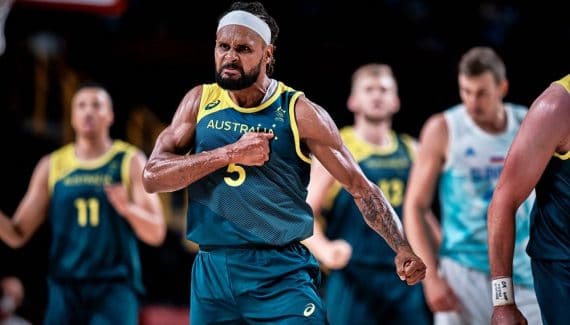 It was in 2021 that Patty Mills experienced the high point of her international career. Captain of the Boomers, he led Australia to the third step of the Tokyo Olympics after a masterful performance against the Slovenians of Luka Doncic, with 42 points. An extraordinary achievement for all of Australian basketball, with the national team falling behind four times in fourth place.
At the same time, the leader has also been active on the charitable level, highlighting the Aboriginal community in his own way, as remarkably pointed out by Andrew Gaze, legend of Australian basketball.
"He did it in a way that doesn't divide. That's the thing that stands out the most. We live in a world that is currently very divided. Yet he contributed through his actions and his words, and he did so in a way that tries to educate, not demand or divide."
Pride, respect and positive iNFLuence
On the occasion of Australia Day, Patty Mills was named a member of the Order of Australia alongside other athletes such as pilot Daniel Ricciardo and swimmer Emma McKeon.
Coach of the Boomers, Brian Goorjian spoke in particular about the "extra-sporting" qualities of his captain, such as pride in his origins, respect for the rest of the group and this positive energy that he gives off and which allows everyone to follow in its wake.
"Everyone in the sports industry knows this guy is a great leader, he cares," he confided. "He always does the right things. It has a positive iNFLuence. Anyone can talk, but the truth is in the action, the people he touched, the impact he had on the Australian team and sport in general. In today's environment where we are facing many social issues, there is a lot going on in the world and Australia needs a positive iNFLuence. Patty is in a position to have enormous iNFLuence and we are fortunate that her iNFLuence is so powerful, not just on Boomers but across the country."
Patty Mills
Percentage
Bounces
Season
Team
GM
Minimum
Shots
3 points
LF
Off
Def
Early
pd
party
Int
bp
CT
Points
2009-10
ORP
10
4
41.7
50.0
57.1
0.1
0.1
0.2
0.5
0.6
0.0
0.4
0.0
2.6
2010-11
ORP
64
12
41.2
35.3
76.6
0.3
0.5
0.8
1.7
1.0
0.4
1.0
0.0
5.5
2011-12
SAN
16
16
48.5
42.9
100.0
0.3
1.5
1.8
2.4
0.9
0.6
1.6
0.1
10.3
2012-13
SAN
58
11
46.9
40.0
84.2
0.2
0.7
0.9
1.1
1.0
0.5
0.7
0.1
5.1
2013-14
SAN
81
19
46.4
42.5
89.0
0.4
1.7
2.1
1.8
1.4
0.8
0.8
0.1
10.2
2014-15
SAN
51
16
38.1
34.1
82.5
0.4
1.1
1.5
1.7
1.1
0.6
0.7
0.0
6.9
2015-16
SAN
81
21
42.5
38.4
81.0
0.3
1.6
2.0
2.8
1.3
0.7
0.9
0.1
8.5
2016-17
SAN
80
22
44.0
41.4
82.5
0.3
1.5
1.8
3.5
1.4
0.8
1.3
0.0
9.5
2017-18
SAN
82
26
41.1
37.2
89.0
0.3
1.6
1.9
2.8
1.6
0.7
1.3
0.1
10.0
2018-19
SAN
82
23
42.5
39.4
85.4
0.3
1.9
2.2
3.0
1.6
0.6
1.1
0.1
9.9
2019-20
SAN
66
23
43.1
38.2
86.6
0.3
1.3
1.6
1.8
1.6
0.8
0.8
0.1
11.6
2020-21
SAN
68
25
41.2
37.5
91.0
0.3
1.4
1.7
2.4
1.2
0.6
1.0
0.0
10.8
2021-22
BRK
45
31
44.1
42.5
88.6
0.2
1.9
2.2
2.5
1.4
0.6
1.0
0.3
13.5
Total
784
21
43.0
39.1
85.9
0.3
1.4
1.7
2.3
1.3
0.7
1.0
0.1
9.2