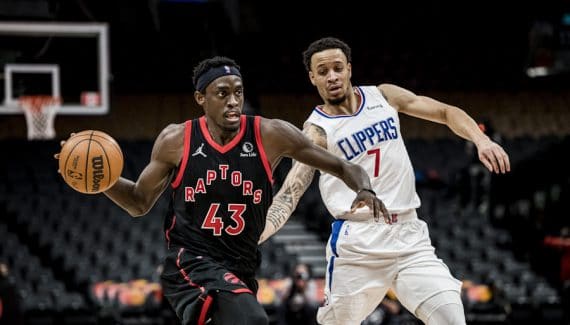 Last season looked like an obstacle course for the Raptors, especially for Pascal Siakam, who in addition to the forced move to Tampa and depressing results (27 wins in 72 games), ended it all with a heart injury. shoulder.
His return this season has thus been delayed, a blessing in disguise for him and his team, since the strong winger from Toronto is now back at the top of his game, with a complete line of stats, and a start thunderous January, averaging 23.2 points, 9 rebounds, 6.2 assists and 1.8 steals over six games.
Although the streak of six straight victories came to an end against Phoenix, the Cameroonian drew congratulations from Suns coach Monty Williams, for whom the co-leader of the Raptors is back to his best.
"If you look at his stat line tonight, he's at 27 points, 7 rebounds and 7 assists. These are numbers of the caliber of an All-NBA player. He doesn't just keep the ball, he finds his guys and that sort of thing. It's a nightmare because when he takes the ball to the basket, he's just hard to stop. When you put little guys on him, he goes higher, and when you put a bigger guy, he'll outrun them. It's a nightmare for coaches and players in the league.", explained the coach of the Suns.
Precious when Fred VanVleet is caught in the club
One of the only points of satisfaction last season for Pascal Siakam was the improvement in his passing sense, materialized by a 2020/21 financial year at 4.5 assists, his career high which he confirms on this start. season (4.6 assists). Better, Pascal Siakam is transformed by sequences into leader, in particular when Fred VanVleet is on the bench, a "process" that Nick Nurse also applied on Scottie Barnes this season.
" I like it. I remember when I arrived, people always laughed at me when I said that I didn't want to be a traditional interior. I've been working and I feel like the more basketball experience I have, the better I get.", underlined the person concerned.
More generally, this ability to create helps the team, even when Fred VanVleet is on the field.
"Reminds me of the Milwaukee game where they cut me out and I was giving the ball to Pascal to let them play 4-on-4.", explained FVV. "We try to give him more space and more opportunities, because he is really hard to defend in 1-on-1. We help each other. The fact that he is more of a creator and has the ball in hand helps my attacking game. It sets the tone. We expected things to turn out this way. It is important for our team. As leaders, we have to be efficient".
On this point, the tandem has clearly shown the example. The next step to improve Nick Nurse's collective will be a five-game road trip (Detroit, Milwaukee, Miami, Dallas and Washington).
Pascal Siakam
Percentage
Bounces
Season
Team
GM
Minimum
Shots
3pts
LF
Off
Def
Early
Pd
Fte
Int
Bp
CT
Points
2016-17
TOR
55
16
50.2
14.3
68.8
1.2
2.2
3.4
0.3
2.0
0.5
0.6
0.8
4.2
2017-18
TOR
81
21
50.8
22.0
62.1
1.0
3.5
4.5
2.0
2.1
0.8
0.8
0.5
7.3
2018-19
TOR
80
32
54.9
36.9
78.5
1.6
5.3
6.9
3.1
3.0
0.9
1.9
0.7
16.9
2019-20
TOR
60
35
45.3
35.9
79.2
1.1
6.3
7.3
3.5
2.8
1.0
2.5
0.9
22.9
2020-21
TOR
56
36
45.5
29.7
82.7
1.7
5.5
7.2
4.5
3.1
1.1
2.3
0.7
21.4
2021-22
TOR
25
36
47.5
31.8
73.1
2.0
6.3
8.3
4.6
3.4
1.0
2.5
0.8
20.7
Total
357
28
48.7
32.4
77.7
1.3
4.7
6.0
2.8
2.6
0.9
1.7
0.7
14.7