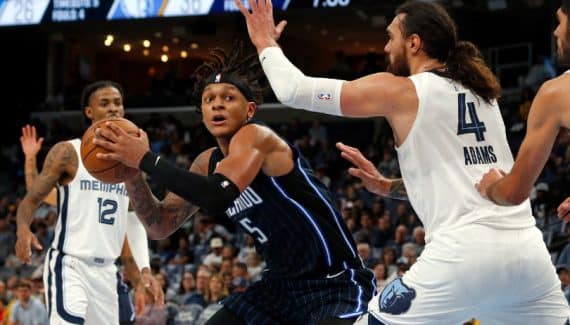 Mo Bamba gave him the leather to play the "pick-and-roll". Paolo Banchero just took advantage of his screen to create an offset before rising to serve his inside cutting circle. But his ill-adjusted pass ended in the stands…
This action, during the trip of the Magic to Memphis earlier in the week, illustrates well the difficulties that the rookie can experience on the "pick-and-roll". A two-man game he didn't use Duke as much.
" In the NBA, it's pick-and-roll pretty much on every possession. It was way more reps than I was used to. In college, it was a lot of isolation, which is why I used to read the game a lot in terms of pure isolation. I have to get used to reading more about pick-and-roll as a ball carrier or screener », testifies the first choice of the last Draft.
This is precisely what he had the opportunity to work on during Wednesday's training. Learn to read the game to make the right decisions, pass or create your own shot and above all gain confidence. Seeing the images of this match in Memphis, he said to himself that he had " don't seem too uncomfortable ".
For Jamahl Mosley, it's just part of learning. " Timing of passes, when to attack the circle or pass outside. He will go through these decision-making like all the others. When we talk about what Franz (Wagner) did last year, in a way, he started to get a little closer to it. It will be a similar situation with Paolo – being able to make pick-and-roll decisions ", Compares the coach.
The latter is aware that the success of this two-player game obviously depends on the rookie's partner. "Wendell (Carter Jr.) will cut differently from Mo Bamba. Mo Bamba differently from Bol (Bowl). It's about timing and getting to know your teammates, figuring out how to pass the ball "Judges the coach who, in the long term, hopes that his player will be able to make the right choices independently of the screen partner.