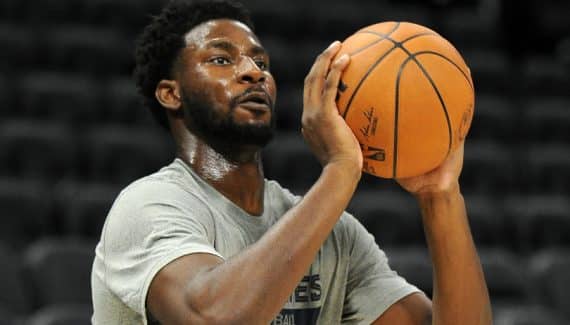 Announced absent from the field for four to six months at the beginning of July, will Jaren Jackson Jr. rather return at the beginning of November, which would only make him miss a few games, or at the beginning of January?
During the "media day", the interior of Memphis had already been optimistic, explaining that they wanted outright " to beat " the schedule announced by his franchise following his right foot operation, and therefore return in October. In recent days, Taylor Jenkins has confirmed this optimism, his player having accelerated his work sessions.
"He's starting to do a little more on the pitch", detailed the coach. "Always contactless. Races all over the field, individual work. It's not just about stationary work, it's a bit more dynamic. It's a step in the right direction from how the camp started. »
Will it allow him to return, as he hopes, before the end of the month? Hard to say.
In any case, he will miss all of the preseason and the "training camp", which is never very good. However, having been around Ja Morant and Taylor Jenkins' systems for three years, he shouldn't have too much trouble finding his feet on his return. In the meantime, it is Santi Aldama who is the starting strong winger.
But it's not easy for the Spaniard to fill the void left by JJJ, the NBA's best blocker last year…
"He is in the best defensive team of the season for a reason" concludes Taylor Jenkins. "You can't replace that with just one player. You have to do it collectively. »
Jaren Jackson, Jr.
Percentage
Bounces
Season
Crew
GM
Minimum
Shots
3 points
LF
Off
Def
Early
pd
party
Int
bp
CT
Points
2018-19
SAME
58
26
50.6
35.9
76.6
1.3
3.4
4.7
1.1
3.8
0.9
1.7
1.4
13.8
2019-20
SAME
57
29
46.9
39.4
74.7
1.0
3.6
4.6
1.4
4.1
0.7
1.7
1.6
17.4
2020-21
SAME
11
24
42.4
28.3
83.3
1.6
4.1
5.6
1.1
3.8
1.1
1.4
1.6
14.4
2021-22
SAME
78
27
41.5
31.9
82.3
1.5
4.3
5.8
1.1
3.5
0.9
1.7
2.3
16.3
Total
204
27
45.3
35.1
79.1
1.3
3.9
5.2
1.2
3.8
0.9
1.7
1.8
15.8