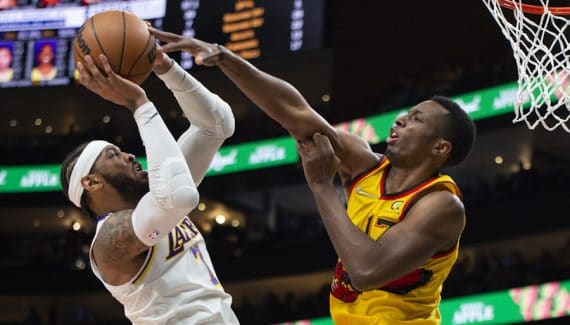 In the trough of the wave, even on the verge of crisis a few weeks ago, the Hawks are now the hottest team in the League (along with the Suns). Winners of the Lakers on Sunday night, Trae Young's teammates went from a more than mediocre record of 17 wins for 25 losses (and a disappointing 12th place in the East) to 24 wins for 25 losses (and a 10th place, synonymous of "play-in").
In full swing since the transfer of Cam Reddish to New York, Atlanta has beaten a lot of people on its current series of 7 consecutive successes: Milwaukee, Minnesota, Miami, Charlotte, Boston and therefore the Lakers.
Just last night against the stars of Los Angeles, but without LeBron James already back in California for treatment, the Hawks went into overdrive late in the game. At -10 before the start of the last quarter (101-91), Nate McMillan sent a five largely composed of substitutes, with Lou Williams, Bogdan Bogdanovic, Danilo Gallinari and Onyeka Okongwu around Trae Young. And it worked like hell!
After several stops in defense, the Hawks regained control behind Young at 36 points and 12 assists, but also Okongwu at 16 points and 5 rebounds, including 12 of his 16 points in the last quarter, and this at 6/6 on shots.
"He is really playing at a great level at the moment for us"appreciated Trae Young while talking about his young interior in the Atlanta Journal-Constitution.
On the field during the last 12 minutes of the 4th quarter, despite a good Clint Capela with 15 points and 9 rebounds, Onyeka Okongwu brought all his energy in the final stretch, notably detonating on a huge alley-oop in the middle of two Lakers or on that big two-handed dunk tap after a Trae Young misfire.
"We know we have what it takes to win games"
With his physical impact, in a big duel against Anthony Davis that he managed to master, Onyeka Okongwu greatly participated in keeping the Lakers silent for two minutes in the "money time".
"We managed to calm down"found Nate McMillan. "I think the hype of this game against the Lakers went to our heads in the first half. We were too emotional. We were so aggressive in attack that it was not clear what we had to do. But our defense finally appeared in the last quarter, conceding only 20 points. We did a good job running our systems late in the game. "
The former teammate of the Ball brothers in Chino Hills had already done it against Sacramento last week, with 18 points and 7 rebounds off the bench to win against the Kings. And so he did it again last night with a new "masterclass". In his second season with Atlanta, Onyeka Okongwu becomes a major part of Nate McMillan's rotation with 9 points and 6 assists on average. After a first year ended in the Eastern Conference Finals, the former USC thinks his Hawks can see even further this season.
"We know we have what it takes to win games. It doesn't matter if we are ahead or behind in the score, it doesn't matter how the match turns out, as long as we are focused and continue to play as we know how to do, we can beat anyone. concludes Georgia's ambitious interior.
Onyeka Okongwu
Percentage
Bounces
Season
Team
GM
Minimum
Shots
3 points
LF
Off
Def
Early
pd
party
Int
bp
CT
Points
2020-21
ATL
50
12
64.4
0.0
63.2
1.2
2.0
3.3
0.4
2.0
0.5
0.6
0.7
4.6
2021-22
ATL
16
23
72.8
0.0
72.1
2.4
3.7
6.1
1.1
3.4
0.6
1.3
1.7
9.3
Total
66
15
67.4
0.0
67.0
1.5
2.4
3.9
0.6
2.3
0.5
0.7
0.9
5.7